Whole wheat crispy popcorn chicken wrap. Homemade popcorn chicken, lots of vegetables all wrapped in whole wheat tortilla! Great snack or light lunch.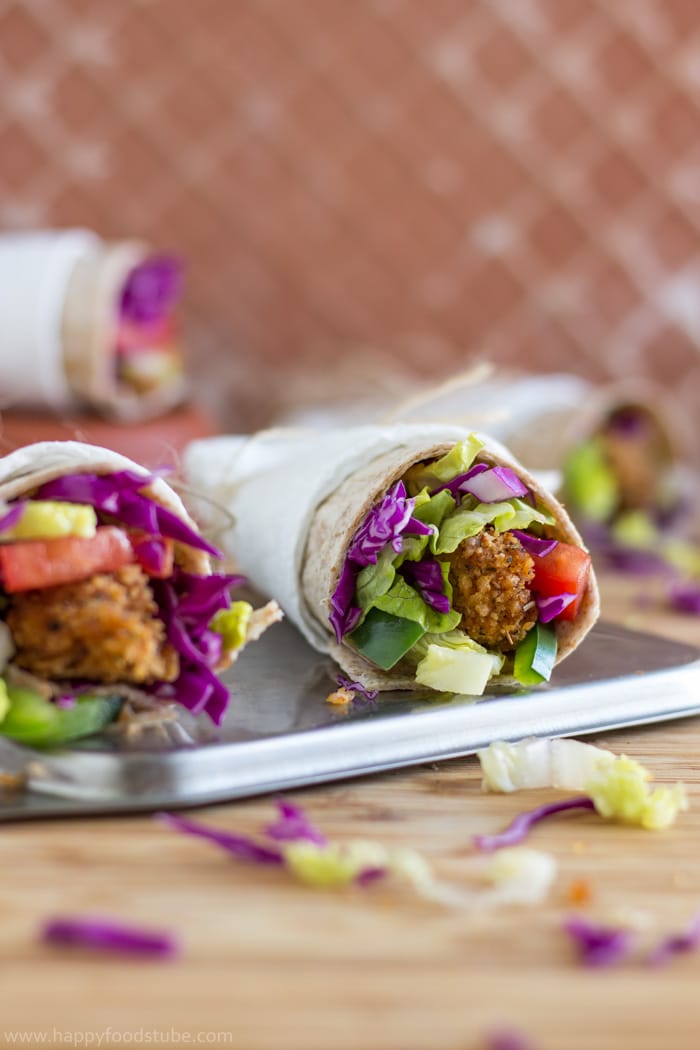 Today I have for you a very easy popcorn chicken wrap recipe.
So guys, I hope you like wraps because these ones are the thing! They are so perfect when you are looking for a light lunch option or you are stuck for time. I know I know I am talking here about homemade popcorn chicken so this obviously mean you need the time to make them. But guess what? You can pre-make the popcorn chicken and keep it in the freezer. That way all you have to do is cut the veggies, deep-fry popcorn chicken & roll the tortillas into wraps. Easy!
I love popcorn chicken and making a popcorn chicken wrap is like a treat. It's tasty, healthy and so easy. Check out my Homemade Popcorn Chicken Recipe to see how easy the process is.
By the way you can throw these tiny crispy chicken pieces in a baguette, if that makes you happier than making a wrap. I like both options. Oh, yes. And I love to eat it with sweet chili sauce. I wasn't able to locate the sauce when I made those photos though. But all is good now and I have one in the fridge finally!
I used whole wheat wraps and lots of veggies. In fact, I put more veggies on those tortillas than my favorite popcorn chicken pieces. You can use as much as you want to. If you use my recipe then you should get at least 6 portions. This will also depend on the size of tortillas you use. I saw pretty huge tortillas in our local shop the other day. The ones I used here were of a medium size, I think.
How to make a popcorn chicken wrap?
Well. The whole process consists of:
Cutting the veggies + deep-frying popcorn chicken + rolling tortillas into mouth-watering wraps! Oh, and don't forget the sweet chili sauce. I tell you a spicy chicken wrap rocks! But if you don't like spicy stuff, then just omit that. I won't judge.
I tell you nothing is better than a crispy popcorn chicken wrap for lunch. And you know what? You can make it ahead and bring it to work with you.
Recipe tip for lunch on the go:
I recommend this Calzone Pizza Recipe. It's pizza in a pocket – a very convenient way of having this Italian classic.
People that's all I wanted to tell you about this recipe. If you ever decide to make it, please let me know. I would love to hear from you!
Whole Wheat Crispy Popcorn Chicken Wrap
Whole wheat crispy popcorn chicken wrap. Homemade popcorn chicken, lots of vegetables all wrapped in whole wheat tortilla! Great snack or light lunch.
Ingredients
¼

Cabbage

(7 ounces/200 g)

1

Tomato

(Large)

1

Green Bell Pepper

(Small)

1

Romaine Lettuce

(Small)

6

Whole Wheat Tortillas

7

ounces

Popcorn Chicken

– see the homemade popcorn chicken recipe (200 grams)
Instructions
Rinse he veggies under running water. Thinly slice cabbage & romaine lettuce. Dice tomatoes and peppers. Throw everything in a mixing bowl & mix.

Deep-fry homemade popcorn chicken following the instructions

here

or use shop-bought version.

Place a tortilla onto a plate. Spread the salad across the middle. Add popcorn chicken and roll the tortilla over the filling. Cut in half and wrap in a piece of baking parchment or tin foil. This will help it hold everything together.

Best enjoyed right away!
Nutrition Facts
Whole Wheat Crispy Popcorn Chicken Wrap
Amount per Serving
% Daily Value*
* Percent Daily Values are based on a 2000 calorie diet.
** As an Amazon Associate I earn from qualifying purchases.
LEAVE A COMMENT
RELATED POSTS