Blueberry Coconut Milk Smoothie with Oats. This delicious breakfast drink is packed with antioxidants, protein, fiber, minerals and vitamins!
Guys, if you like blueberries, you will love this protein rich blueberry smoothie! It is super easy to make and ready on your table in about 5 minute!
I like breakfast. What am I saying?! I love breakfast! For some reason, in my eyes nothing beats breakfast! I am not sure if I have a favorite breakfast recipe.
These days, when everyone is in a hurry many people tend to skip breakfast. I admire them all because I couldn't do it! It looks like my body is somehow dependent on breakfast.
Now when I say breakfast I imagine various foods and drinks I like. What about you? Do you eat the same thing every morning?
I know some people do but I find there are so many delicious breakfast options out there that it would be a shame not to try them. Of course, some of them take time to prepare so I save them for weekends or special occasions!
When I am pressed for time all I do is grab a toast with butter and some toppings. But this kind of breakfast doesn't keep me full for long so I prefer smoothies like this Dairy-Free Almond Smoothie.
I also like eating Greek yogurt with this Dark Chocolate Granola. If I feel like I need some bacon in my life I make Bacon & Parsley Toast Delight. Now that doesn't mean this is the only way we eat bacon in our house because that's one of my favorite foods!
If you are looking for quick breakfast recipes, this blueberry coconut milk smoothie is the thing! You can have it instead of a drink or have it as a main breakfast dish. You should get 2 cups of this smoothie recipe.
However, if you are not planning on eating anything else I recommend 2 cups per person. I like drinking this easy homemade smoothie while having a toast or something else so one cup is enough for me.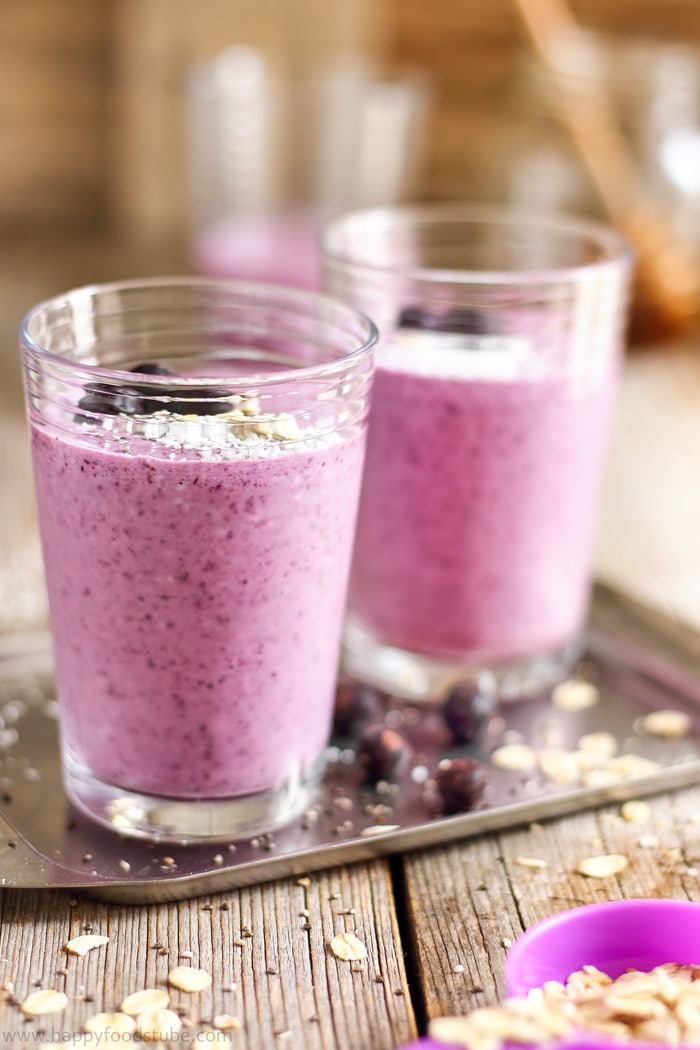 So what exactly is in this healthy smoothie? You already know there are oats and blueberries. Now add some coconut milk, chia seeds, Greek yogurt, honey and process these in a blender until smooth. It literally takes no more than 5 minutes! Isn't it great? Plus blueberries are packed with nutrients that help us stay healthy!
I normally start off with grinding the oats until I get powder-like consistency. My tiny blender seems to handle the blending better this way. So only after I add the rest of the ingredients to my blender and blend until smooth. If you have a good powerful blender I guess this doesn't matter.
Honey is my favorite sweetener but you can add agave syrup instead. You could also omit it if you feel like it is sweet enough for you. The frozen blueberries I bought were not sweet at all!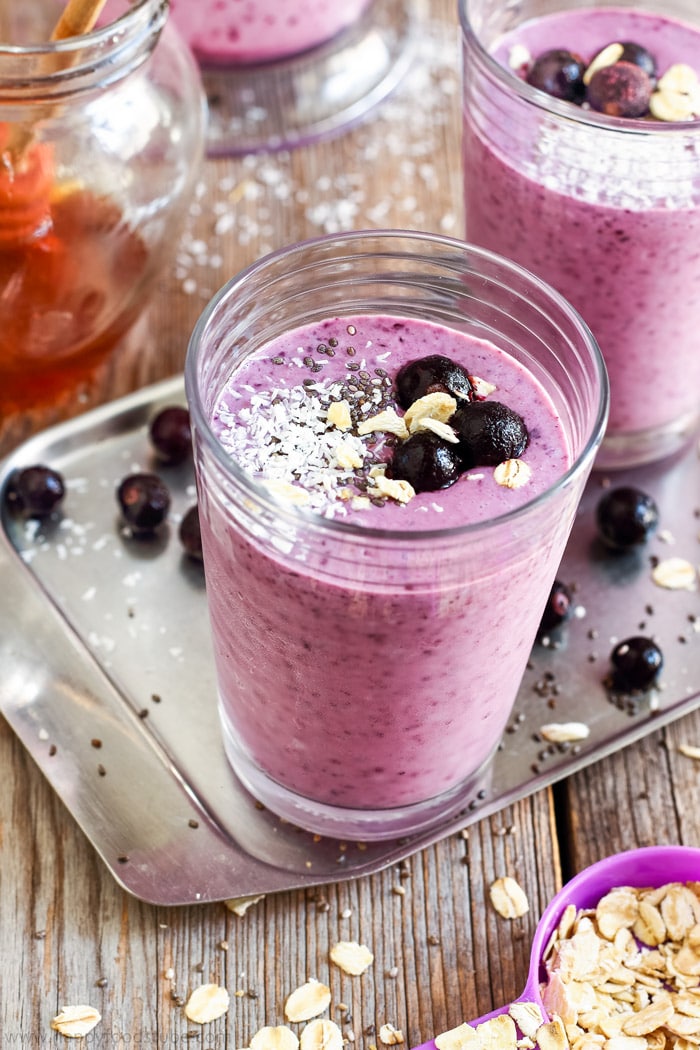 So what do you think? I love everything about it. The richness, coconut aroma, blueberry taste & its health benefits!
By the way, you can experiment with the flavors here. Feel free to add more oats, chia seeds, blueberries or omit yogurt, if you wish (but don't forget to add more blueberries)!
Also check out these homemade smoothie recipes!
Blueberry Coconut Milk Smoothie with Oats
Blueberry Coconut Milk Smoothie with Oats. This delicious breakfast drink is packed with antioxidants, protein, fiber, minerals and vitamins.
Instructions
Throw the oats in a blender and pulse until you get nice flour like texture. Add the rest of the ingredients in and pulse smooth.

Pour in a glass and enjoy right away!
Notes
If you wish to garnish your smoothie with some chia seeds, oats, blueberries – set a few of each aside before throwing them in the blender. You will get 2 cups (17 oz) out of this recipe. However, some might find it enough for one person only.
Nutrition Facts
Blueberry Coconut Milk Smoothie with Oats
Amount per Serving
% Daily Value*
* Percent Daily Values are based on a 2000 calorie diet.
** As an Amazon Associate I earn from qualifying purchases.
LEAVE A COMMENT
RELATED POSTS