Super Healthy Breakfast Bowl! Start off your day with this nutritious meal ready in less than 5 minutes! An easy breakfast with yogurt, fruits and seeds!
At the beginning of each year when we tend to look for healthy recipes more than usually. Or at least some of us do! I guess it's because of the whole New Year's resolution thing. We all want to be healthier and eat the right things. So we search for new recipe ideas.
That is why I made this superfood breakfast bowl. It is full of nutrients which are important for our bodies. All these goodies help us stay healthy and also keep us full longer!
So what exactly is in this healthy breakfast bowl you ask? Well, the answer is pretty simple: Yogurt + Fruits + Seeds! These are the main ingredients so let's talk a bit more about them!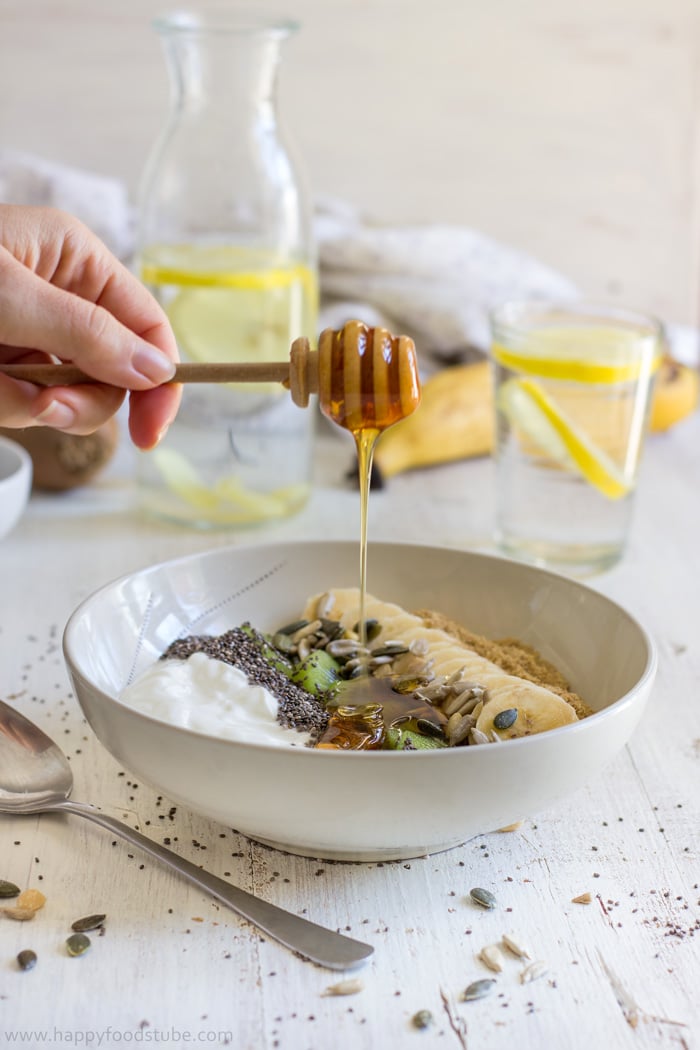 I used natural yogurt but you can also use Greek yogurt. They are both highly nutritious containing protein, calcium, potassium as well as some vitamins and minerals.
By the way, if you are wondering what the difference between a natural and Greek yogurt is then Greek yogurt is thicker and contains probiotic cultures as well. Its protein content is usually higher as well.
When it comes to fruits, I used banana and kiwi in this breakfast bowl recipe. Bananas are a great source of potassium and vitamins. And guess what? Because of its fiber content, you will feel full longer! Isn't it great? Now let's not forget about kiwi. This fruit boosts our immune system thanks to its high vitamin C content which is pretty important in winter months when we tend to get sick very easily.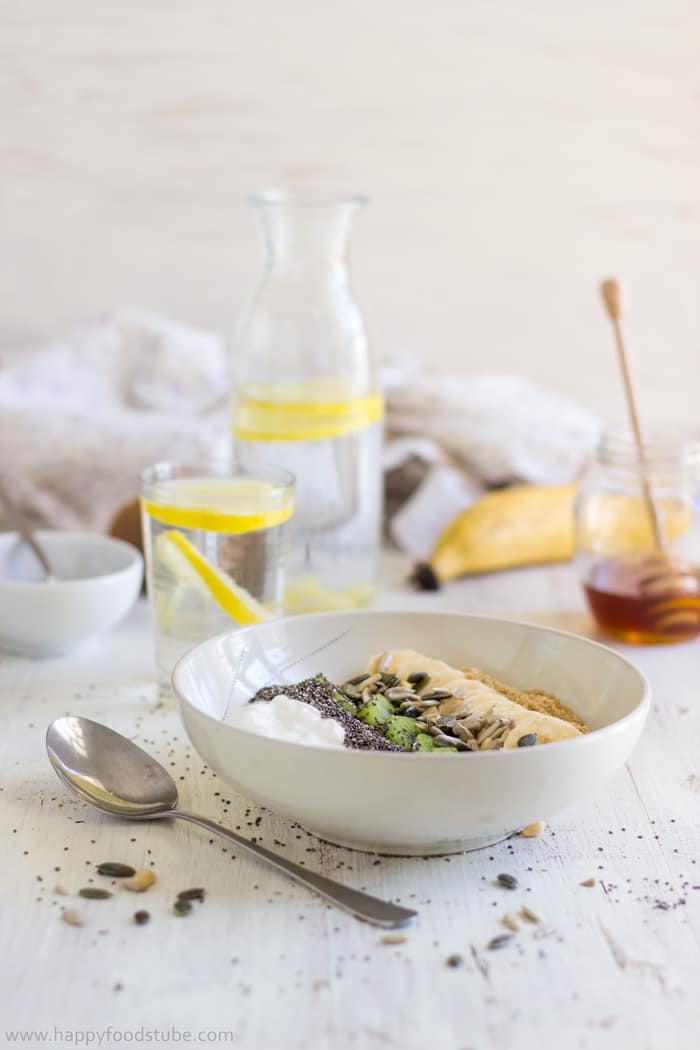 Now let's talk seeds! Pumpkin, sunflower, sesame, hemp, chia, flaxseeds! Do you love them or hate them? Do you have a favorite type or you like all of them? I have to say I like chia seeds because they are one of the superfoods and because of their neutral taste you can add them literally anywhere. For example, you can add them to smoothies like this Persimmon Banana Smoothie or spreads like this Avocado Spread.
Guys, remember that when eating fiber-rich foods we have to increase our water intake. I have a solution here for you as well: this Lemon Ginger Water is perfect for keeping your body hydrated!
By the way, if you have the 5 minutes to make this but don't have the extra time to eat it at home, why don't you just throw the ingredients in a mason jar, grab a lid and a spoon and eat it whenever you'll find the time!
If you decide to eat it on the go, I have some tips for you:
Don't be tempted to mix everything together before you are ready to eat it! Add the ground flaxseeds as well as chia seeds at the very end. Start with yogurt, then the fruits, mixed seeds, sweetener (if using) and now I would finish it off with chia and flaxseeds.
The reason is that the chia and flaxseeds will suck the liquid out of the yogurt if you don't eat it right away. The result would not be very appetizing then – you could end up with a cement-like mixture instead of a delicious healthy breakfast bowl.
This post originally appeared on Julie's Eats & Treats, were I am a contributor!
Super Healthy Breakfast Bowl
Start off your day with this nutritious meal ready in less than 5 minutes. An easy breakfast with yogurt, fruits and seeds.
Ingredients
7

ounces

Natural Yogurt

(200 ml)

1

Ripe Banana

1

Kiwi

1

tablespoon

Chia Seeds

1

tablespoon

Ground Flaxseeds

1

tablespoon

Mixed Seeds

Agave Syrup

or Honey to Taste (optional)
Instructions
In a bowl, arrange all the ingredients to your liking and drizzle with agave syrup or honey.

Serve right away!
Notes
Don't forget to increase your water intake after eating meals rich in fiber!
Nutrition Facts
Super Healthy Breakfast Bowl
Amount per Serving
% Daily Value*
* Percent Daily Values are based on a 2000 calorie diet.
** As an Amazon Associate I earn from qualifying purchases.
LEAVE A COMMENT
RELATED POSTS