These 2-ingredient dark chocolate truffles are rich little sweet treats perfect for special occasions. Plus, they can be easily turned into homemade edible gifts!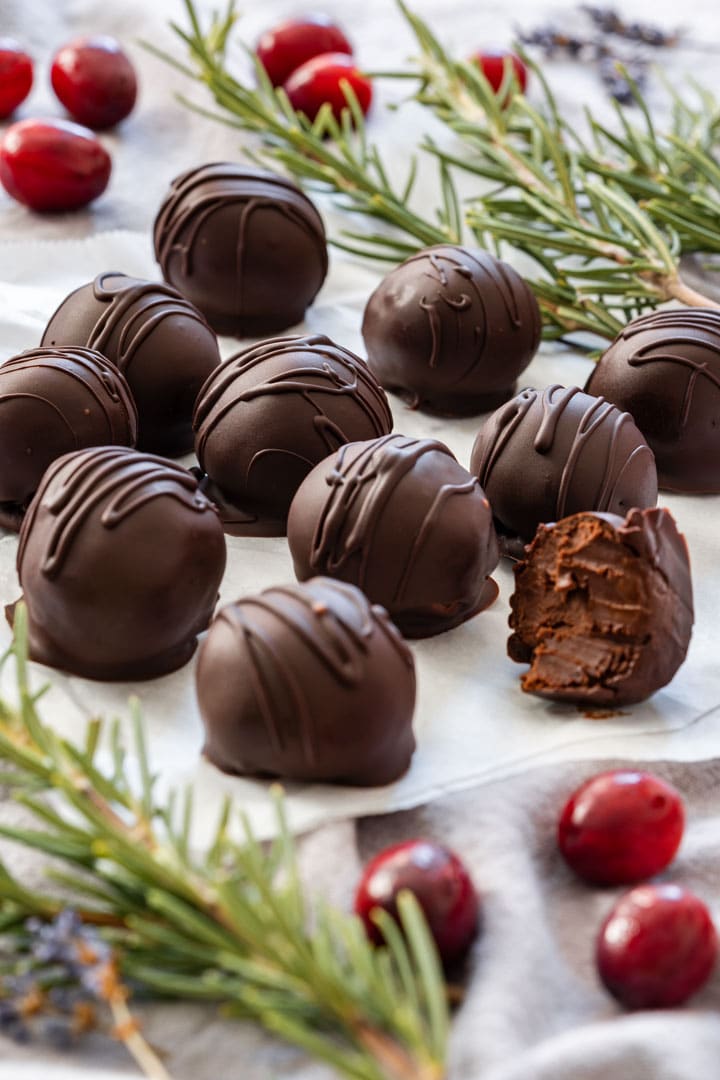 They are made with 70% dark chocolate and no sweetener nor other extras are added. This also helps keep their calorie count down.
Ingredients:
Dark chocolate
Heavy whipping cream
Tools needed:
Chopping board & knife
Serving tray or baking tray – that can fit in your fridge (chopping board works just fine as well)
Aluminum foil (or baking parchment)
Plastic wrap
2 Dessert spoons (one will also do)
Saucepan
Heat-proof bowl
Spatula
2 Forks
Gloves – highly recommended
Dietary information:
Eggs: No
Nuts: No
Dairy: Yes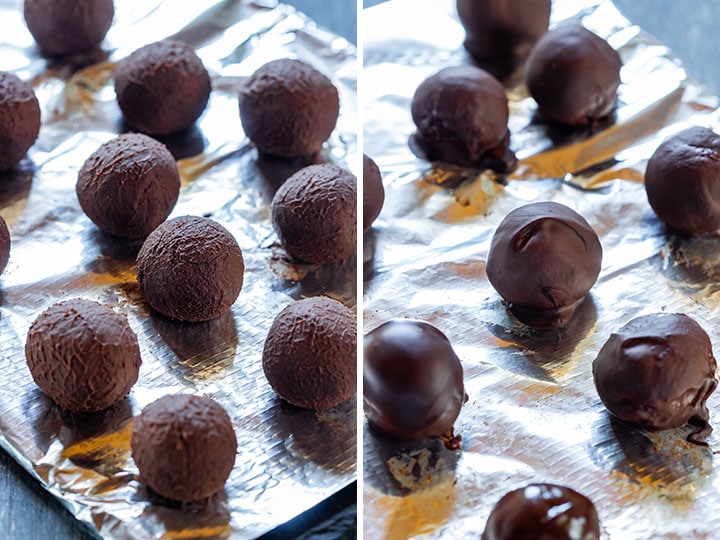 Tips for making homemade dark chocolate truffles
Rolling the chocolate ganache into balls is a bit messy so I recommend you prepare everything before you start.
Make sure the tray or chopping board you choose fits in your fridge. If it does, make space for it!
Scoop out the ganache mixture with a dessert spoon. Use another spoon to release the chocolate.
Don't freeze these chocolate truffles! If you do, condensation will form on their surface shortly after you take them out from your freezer.
Chocolate coating for truffles can be omitted but you will need to use some kind of a substitute instead (see below for more ideas).
For best results, use dark chocolate with 70% cocoa content. The brand I like using is Lindt.
If you like trying out new truffle recipes, try our walnut truffles.
Wait until the melted chocolate for the glaze is cooled down to avoid melting the truffles!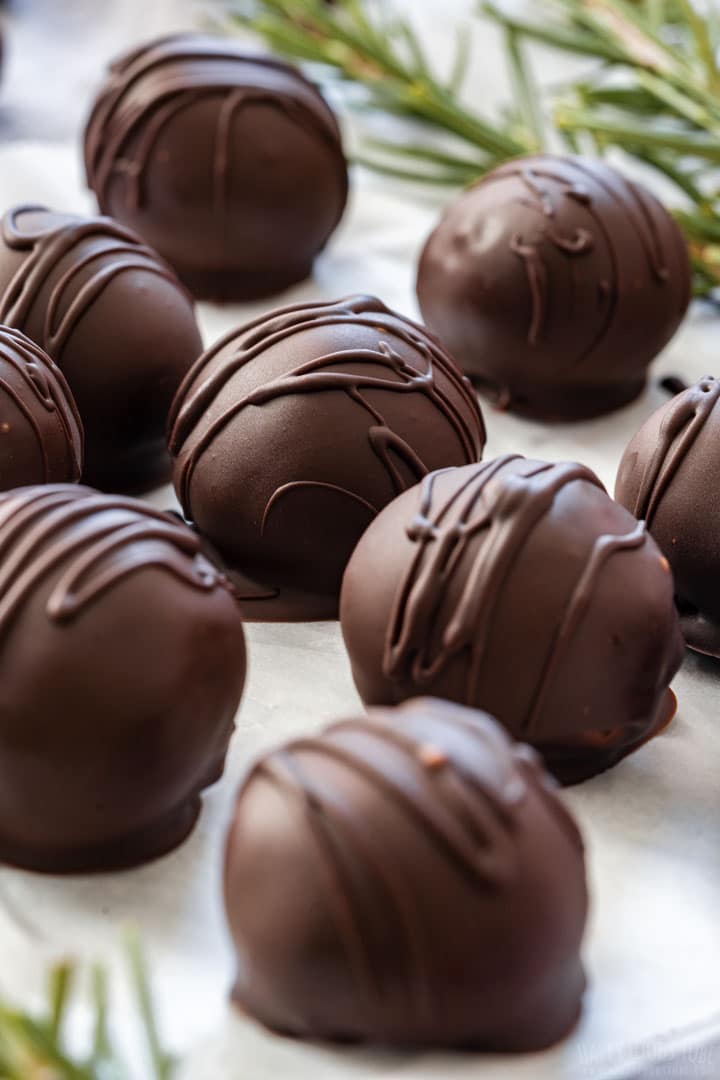 Optional coating and toppings
Melted chocolate – dark chocolate but it has to be quite thin so you can drizzle it over the already hardened chocolate truffles. The simplest way is dipping a fork in melted chocolate and drizzle it over the balls, making quick back and forth movements. White chocolate will also work.
Unsweetened cocoa powder – the easiest way to finish these 2-ingredient chocolate truffles. However, you will have to add an extra ingredient to your shopping list.
Chocolate or festive sprinkles (if making these for the Holidays)
Crushed pistachios – sprinkle some over the chocolate coating before you place them in the fridge to harden.
Royal icing – grab some from the store or make it at home when planning on decorating a gingerbread house. You will only need a little to decorate 24 chocolate truffles so if you are not going to use it in another recipe, you might be better off buying it or using another topping.
Edible lavender – Sprinkling some over each truffle adds an extra flavor and it looks so pretty. One of my favorite ways to use it is chocolate covered dates!
Shredded coconut – possibly unsweetened.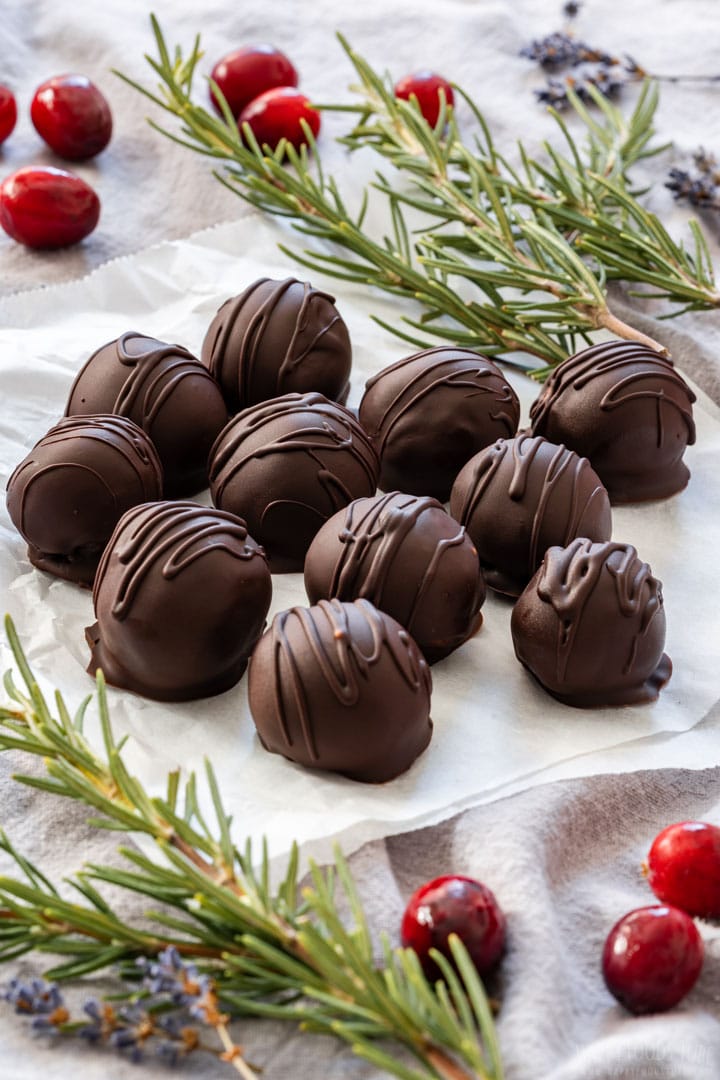 Troubleshooting possible issues
Chocolate mixture too soft to form balls:
Please note that in order to achieve smooth melt-in-your-mouth truffles, the consistency of your truffle mix needs to be soft-ish. However, keep in mind that to form balls out of the mixture, you need to chill it for about 3 hours.
Use gloves to roll the chocolate into truffles. If you don't, you will have a hard time rolling them. In fact, you might not even be able to do so as chocolate will melt quickly and stick to your hands making rolling chocolate truffles almost impossible.
Chocolate coating melting in your hands:
These homemade truffles don't contain any additives or preservatives so they will melt in a warm room when you hold them in your warm hands for too long.
They should not melt at room temperature though!
Note: This is an old recipe that has been improved and new photos were added recently.
More tasty dessert recipes for you to try:
2 Ingredient Dark Chocolate Truffles
These 2-ingredient dark chocolate truffles are rich little sweet treats perfect for special occasions. Plus, they can be easily turned into homemade edible gifts!
Servings:
24
truffles, see note 3
Ingredients
For truffles:
7

ounces

dark chocolate

(200 grams), see note 1

⅔

cup

heavy whipping cream

(140 milliliters), see note 2
Instructions
For truffles: Finely chop the chocolate and place it into a heatproof bowl.

In a saucepan, heat the cream until it comes to a boil. Take it off the heat and pour over the chocolate. Let it sit for 2 minutes before stirring until completely smooth.

Cover the bowl with plastic wrap and refrigerate for 3 hours (the chocolate needs to be firm enough so you can work with it. If it is not, keep it in the fridge for longer).

Take the chocolate out from the fridge and remove the plastic wrap. Scoop about 2 teaspoons of the mixture out and place onto a tray or chopping board lined with aluminum foil or baking parchment. Repeat until you have used up all the mixture.

Roll in your hands into balls (TIP: Using latex gloves makes rolling slightly easier and less messy).

Place the balls in the fridge until firm (about 30+ minutes).

For coating: Finely chop the chocolate. Transfer it into a heat-proof bowl and melt it over a pot of simmering water. Stir. Stirring helps melt the chocolate faster and it also helps avoid over-heating the chocolate.

When the chocolate is melted, let it cool down a bit before coating the balls with it.

Place each chocolate-coated ball (truffle) back onto the same tray/board. Transfer back to the fridge. Let them sit for about 10 minutes or until you see the chocolate is firm. Don't touch them as it is not hard enough at this stage.

Dip a fork in the leftover melted chocolate and drizzle over each truffle in a zig-zag pattern. You can omit this step and simply sprinkle some edible lavender or festive sprinkles over right after you coat each truffle in chocolate.

Finally, transfer the truffles back to the fridge so they can firm up properly, at least 3 hours, but best is overnight (TIP: to see if the truffles are hard enough, simply touch and lift one. If you see finger marks on its surface, refrigerate for longer).

Enjoy!
Notes
I used Lindt dark chocolate with 70% cocoa content. I suggest you use similar for best results.
Heavy whipping cream must contain around 35% fat.
The number of truffles you get out of this recipe may vary, depending on how much mixture you use. They are quite rich so I recommend making them smaller rather (size of a small walnut) than larger.
The preparation time does not include inactive time (when the truffles are set in the fridge). Count with 5-6 hours or more (if leaving them in the fridge overnight).
Optional: Truffles can be covered in unsweetened cocoa powder or sprinkles of your choice. If that is what you are looking for, then simply omit the coating (you won't be needing the chocolate for coating at all) and roll them in your chosen "coating" after step 4.
Nutrition Facts
2 Ingredient Dark Chocolate Truffles
Amount per Serving
% Daily Value*
* Percent Daily Values are based on a 2000 calorie diet.
** As an Amazon Associate I earn from qualifying purchases.
LEAVE A COMMENT
You may also like: