Pizza time! Salami pizza with cheese and arugula is waiting for you! Homemade pizza dough, pizza sauce from scratch and simple yet mouth-watering toppings!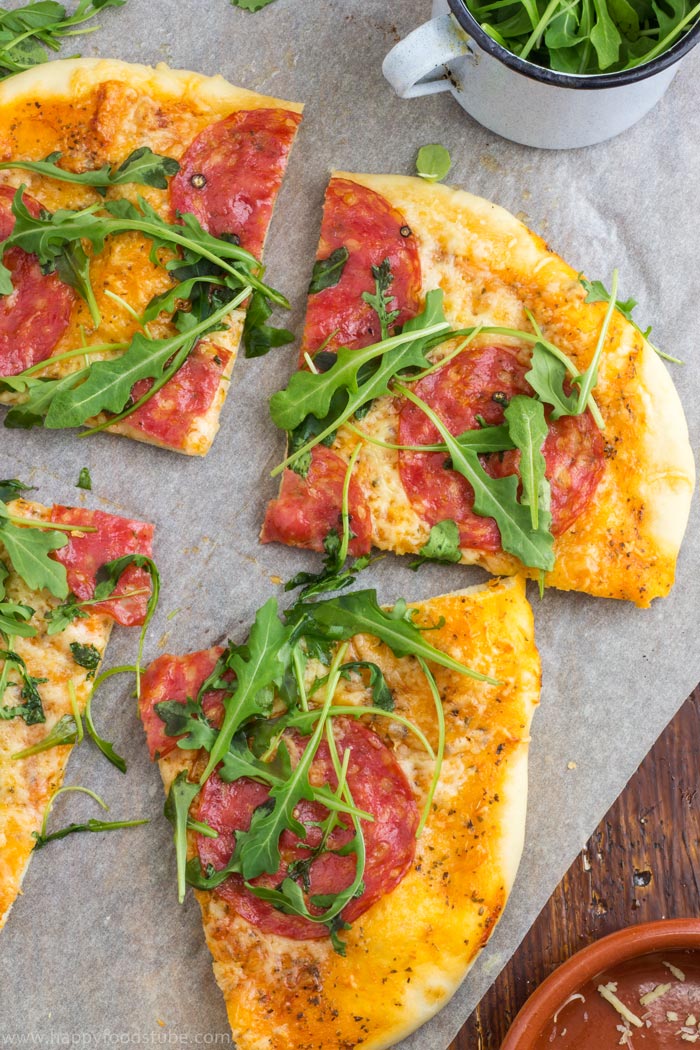 It's been a while since I made homemade pizza! Can't believe it myself! I would normally make pizza from scratch every week or two.
Many of you may think that making pizza from scratch is not easy and takes a lot of time! Now there is only a little truth behind this. The whole pizza making process is very very easy. I know it takes time, but it is a passive time as mostly you wait for the dough to be proven (1 hour) and for the pizza to be baked (12 minutes).
The time you spend on the actual preparation, kneading and rolling out the dough takes altogether 15 minutes! No more than that! During this time, you can put clothes in washing machine, do the washing up, do a bit of dusting or anything really. That was what my passive (waiting) time looked like.
So today I made this salami pizza. I was stuck for a recipe that is fast (yes) and yummy. I had no post ready for today and our fridge looked pretty empty in the morning. So, what was the easiest thing to make (apart from instant Ramen noodles)? Well, the salami pizza of course!
Are you wondering what you need to make a pizza? And by pizza, I mean super simple homemade pizza! No idea, you say? Well, read on. The process is divided into sections that should be easy to follow.
Homemade pizza dough recipe:
If you would like to make this pizza from scratch, you should check out my homemade pizza dough recipe. The recipe is very straight forward and if you follow it you will get 4 large pizzas out of 500g/1.1lb of flour. If you don't want to bake 4 large pizzas, you have two options. Option 1: Reduce the amounts by half. This way you will get 2 large dough's. Option 2: Make the dough using the full recipe. Once it has proven, divide it into 4 pieces, form balls out of them. Cover in cling film and freeze for later use as many as you want.
Pizza sauce from scratch:
Do you have your favorite pizza sauce? Do you buy one or you make your own? If you are thinking of making sauce from scratch check out this simple homemade pizza sauce recipe. No cooking or blending is required to make this sauce. You only need 5 ingredients and you are good to go! Oh, and it takes about 3 minutes. Isn't it great?
Salami pizza toppings:
Grated cheddar cheese, salami and arugula – that's all you need here! 3 ingredients! Nothing more, nothing less! Well, you could omit the pizza sauce but I wouldn't. If you want to, then I suggest adding some extra cheese.
Cheese and salami are baked together with the pizza base, while arugula is added after it has been taken out from the oven.
Baking time:
Like I have already mentioned, the baking takes 12 minutes. However, every oven is different so be sure to check it the first time you make pizza. Once you know how your oven behaves, it's easy. Also, if you put 2 trays in the oven at the same time it may take longer. I know that I can't do this in my oven.
Some more pizza recipes:
Have you ever tried Pizza with Potatoes? You say no? Well, then it's the highest time to try one. That recipe is pretty delicious. Calzone Pizza is great because all the toppings are actually locked in a pizza pocket. We could call it an Italian empanada I guess. This pizza is great to just grab and go (take it to work and simply heat up in the microwave).
Have a lovely Saturday everyone!
Salami Pizza with Cheese and Arugula
Pizza time! Salami pizza with cheese and arugula is waiting for you. Homemade pizza dough, pizza sauce from scratch and simple yet mouth-watering toppings.
Servings:
2
(1 Large Pizza)
Ingredients
3.5

oz

Cheddar Cheese

, grated (100g)

A Handful of Fresh Arugula

1

Pizza Dough

(check out my homemade pizza dough recipe)

3

tbsp

Pizza Sauce

6

Large Salami Slices

(about 40g/1.4oz)
Instructions
Make the dough first, if using homemade one (check out my recipe for detailed instructions). If you are using shop-bought dough, then take it out from the fridge.

While waiting for your dough to prove, prepare your sauce (this takes about 3 minutes) or get your favorite shop-bought pizza sauce ready. Grate the cheese and get the rest of the ingredients ready.

Once your dough has proven (if using homemade) divide it into 2-4 pieces, depending on how large you want your pizza. Roll the dough out until it is quite thin.

Transfer the pizza dough onto a baking tray lined with baking paper. Spread over 2-3 tablespoons of pizza sauce. Top with cheese & salami.

Bake in a preheated oven at 220C/430F for 12 minutes.

Take it out, top with arugula & you are ready to serve!
Happy Cooking with Happy Foods Tube!
Nutrition Facts
Salami Pizza with Cheese and Arugula
Amount per Serving
% Daily Value*
* Percent Daily Values are based on a 2000 calorie diet.
** As an Amazon Associate I earn from qualifying purchases.
LEAVE A COMMENT
RELATED POSTS