This is an easy spring vegetable soup recipe. Ready in less than 30 minutes, this spring soup makes the perfect weeknight dinner or lunch no matter what the season!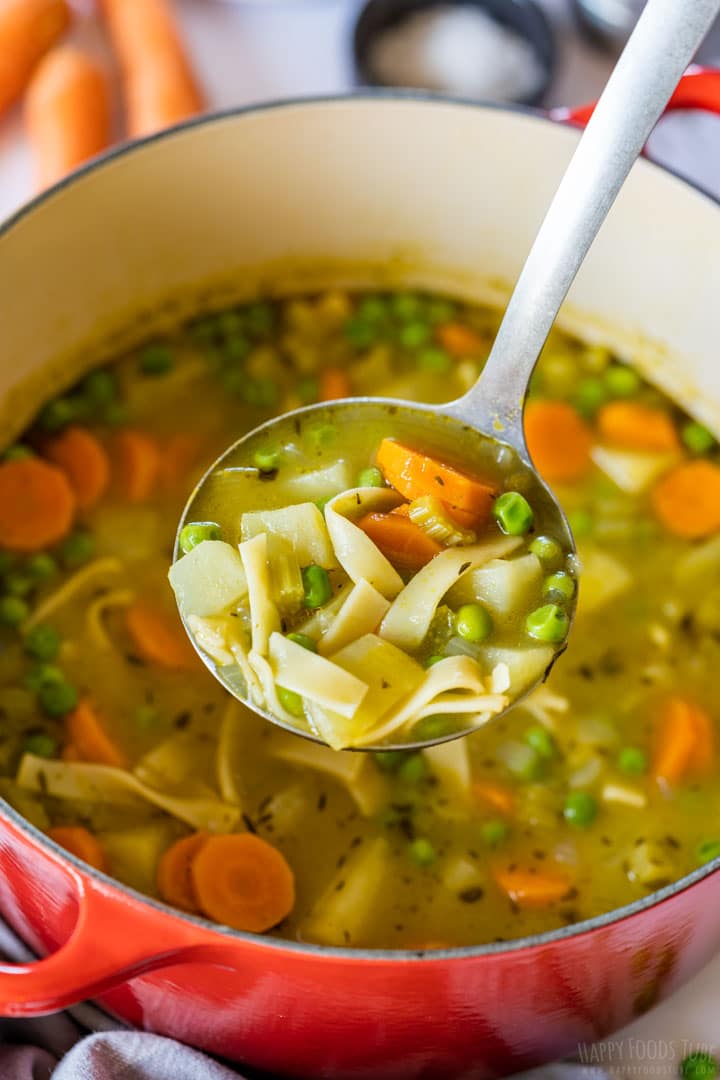 Now, because it is a light vegetable soup recipe, so it is good to pair it with a main to make it a filling meal. It is extra tasty served with crusty bread, garlic baguette or dinner rolls.
This basic soup recipe can be easily customized to one's liking and I have included some possible variations (in text below). However, you can experiment and use what you like.
Why eat soups?
Making soups is an easy process.
They are packed with vitamins, minerals, protein, fiber & antioxidants.
Most soups are light and easy to digest (I have a good selection of healthy and quick soup recipes that taste amazing as well as rich and creamy soups).
Soups help you stay hydrated during the day.
A bowl of warm soup prepares your stomach for the main course (which is usually harder to digest) and also heats you up, especially during cold winter days.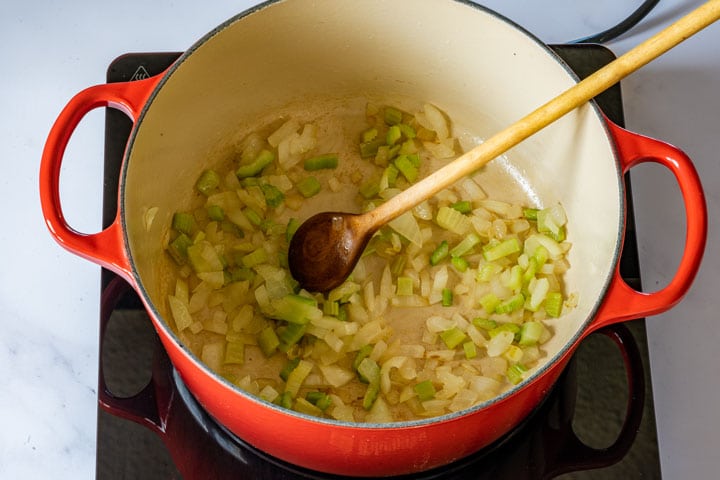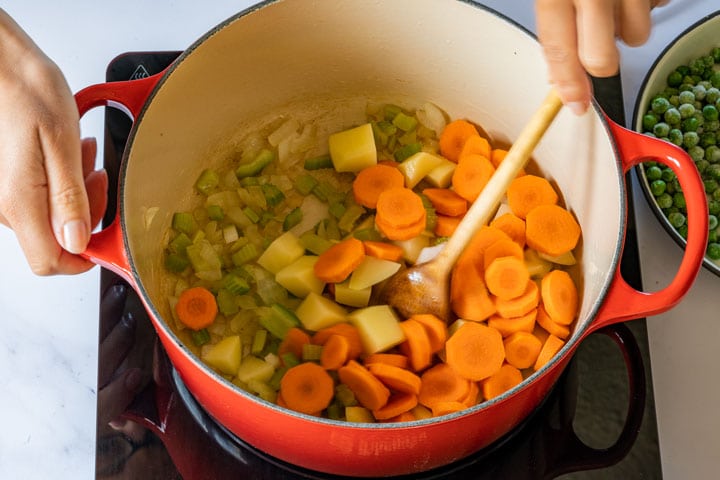 Vegetable soup ingredients:
Onion
Carrots
Celery
Potatoes
Peas
Plus, stock, thyme and black pepper.
Optional add-ons & possible variations:
Rotisserie chicken (or cooked chicken breast diced up)
Salt – I used regular vegetable stock and the amount of sodium it contained was plenty to flavor this soup with vegetables. Now, if you use a low-sodium stock, you will need to add more seasoning, unless you are on a low-sodium diet.
Other herbs of your choice – tarragon, marjoram,…
Stock – if you are not vegetarian or vegan, feel free to use chicken stock if that is what you have on hand.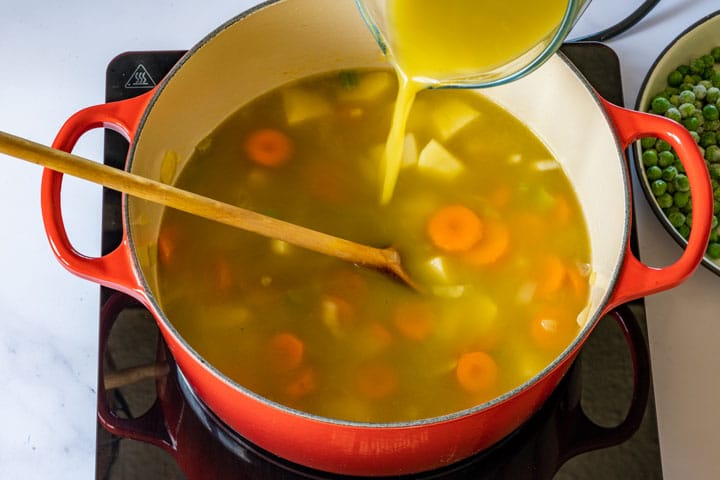 Vegetable soup frequently asked questions:
I don't like some of the vegetables. What can I use instead?
Cauliflower, broad beans, or asparagus are possible substitutes.
Can I use frozen veggies?
Yes, you can. However, I recommend adding at least some fresh ones to achieve the best flavor.
What does this spring vegetables soup contain (special diet information)?
Dairy: NO
Nuts: NO
Gluten: YES (when using regular pasta), NO (when omitting noodles or using the gluten-free kind)
Meat: NO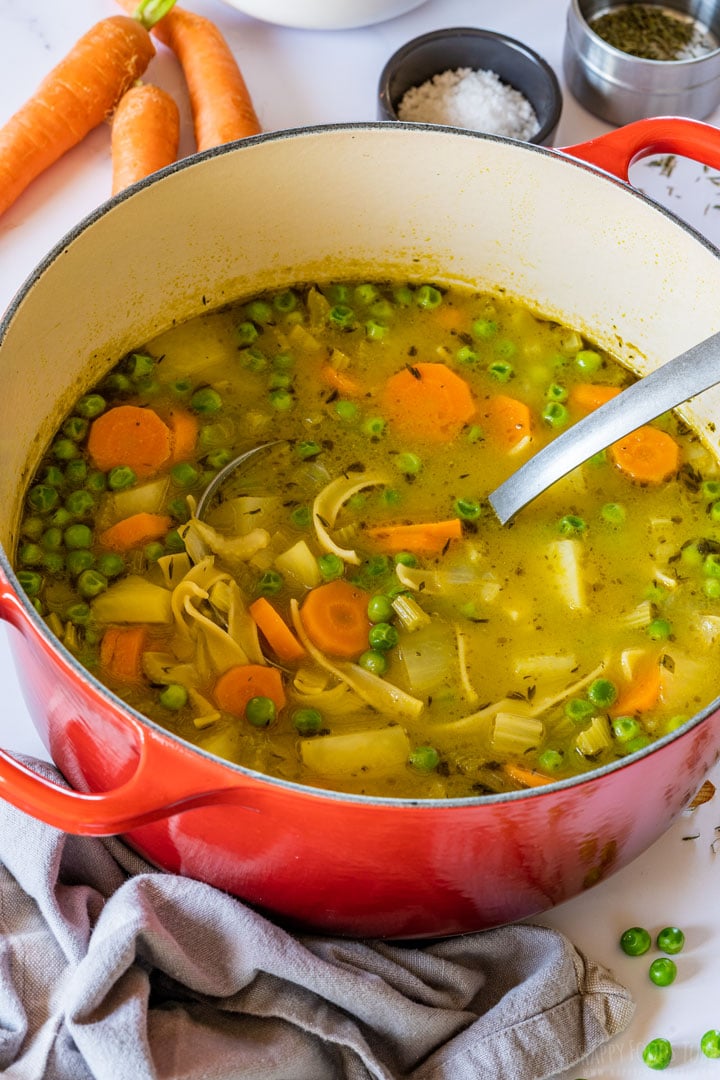 More soups you might like to try:
This is an old post that has been recently updated with new photos, text and improved recipe.
You can experiment with the ingredients as well as their quantities but keep in mind that it will also affect the taste of the soup, so it can taste every single time differently.
If you do give this recipe a go, please let me know what you think in the comments section.
Happy Cooking!
Spring Vegetable Soup
This is an easy spring vegetable soup recipe. Ready in less than 30 minutes, this spring soup makes the perfect weeknight dinner or lunch no matter what the season!
Ingredients
1

tablespoon

olive oil

, see note 1

1

medium

onion

, finely minced, see note 2 (about 1 cup)

1

large

celery stalk

, diced (about 1 cup)

2

medium

carrots

, sliced (about 1 cup heaped)

3

medium

potatoes

, diced (about 2 cups)

4

cups

vegetable stock

(1 liter)

½

teaspoon

dried thyme
black pepper

, to taste

5

ounces

frozen peas

, see note 3 (1 cup/150 grams)
Optional:
small pasta or noodles

, see note 4 & 5
Instructions
In a medium pot, heat the oil and add minced onion and diced celery. Saute on low-medium heat until the onion is translucent, about 3 minutes.

Next, add sliced carrot, diced potatoes, stock, thyme and a pinch of black pepper. Stir and cover with a lid. Increase the heat and bring to a boil. Reduce the heat to low and simmer for 15 minutes.

After 15 minutes, add peas and pasta (if using, see note 4) and cook for a further 5 minutes. Make sure the pasta and veg is soft before you turn off the heat.

Enjoy warm!
Notes
Olive oil can be substituted with vegetable, sunflower or canola oil.
Fresh carrot, celery and onion can be substituted with frozen, but the fresh ones will give you a better taste.
Frozen peas work great here and is very tasty, but you can use fresh one as well, if you prefer.
You can add angel pasta, or any small-shaped pasta. If you have long-shaped pasta like tagliatelle, you can break these into small pieces and add to soup. Only a handful is needed.
Pasta can be cooked in the soup or separately. When cooking in the soup, check the package instructions and add to soup accordingly. Note that pasta will soak some of the liquid so you will end up with a thicker soup, especially once cooled down. So, if you serve this spring vegetable soup the following day, I recommend cooking pasta (and keeping it) separately until re-heating time.
I used a 4-quart/4-liter Dutch oven.
Nutrition Facts
Spring Vegetable Soup
Amount per Serving
% Daily Value*
* Percent Daily Values are based on a 2000 calorie diet.
** As an Amazon Associate I earn from qualifying purchases.
LEAVE A COMMENT
You may also like: