This easy-to-make creamy vegetable soup is ready on your table in 35 minutes. It is perfect for meal planning, quick lunch, or dinner. Suitable for the freezer!
This recipe is very simple and suitable for many diets. It is lactose-free, gluten-free, vegan, and has no dairy in it.
It does not contain any cream so if you are after healthy soup recipes, this homemade vegetable soup is it!
Because it is made of vegetables only, it freezes well which makes it the perfect make-ahead freezer meal! It is also perfect for meal prep as it will last up to 4 days when stored properly in the fridge.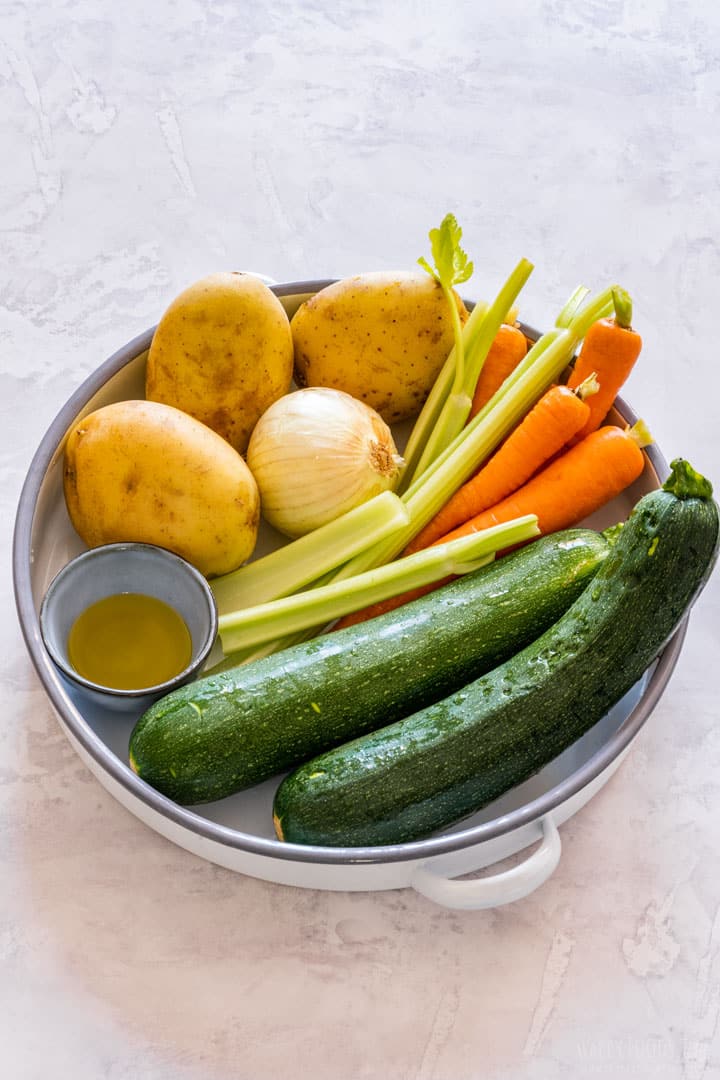 How to make creamy vegetable soup
Tools:
Chopping board & knife – for cutting vegetables
Vegetable peeler – to peel carrots and potatoes
Large pot and wooden spoon – you can also use a Dutch oven
Immersion blender – if you don't have one, use a stand blender instead
Ingredients:
Vegetables – Onion, celery, carrot, zucchini, and potatoes
Herbs – Parsley
Liquid – Stock/broth
Seasoning – Salt (only if needed) & black pepper
Olive oil
To save time, I like to prep the onion first, add it to a pot with olive oil, and while it is sauteing, I cut the rest of the veggies, adding them to the pot as I go.
The quickest way to cook is using a lid so make sure you do that. It also stops the liquid from evaporating, so you won't end up with a soup that is way too thick.
Once the veggies are cooked, puree them. Taste if additional seasoning is needed – salt, pepper. I don't usually add more as it is not needed but if you buy low-sodium stock, you might need to add more. This also depends on your taste.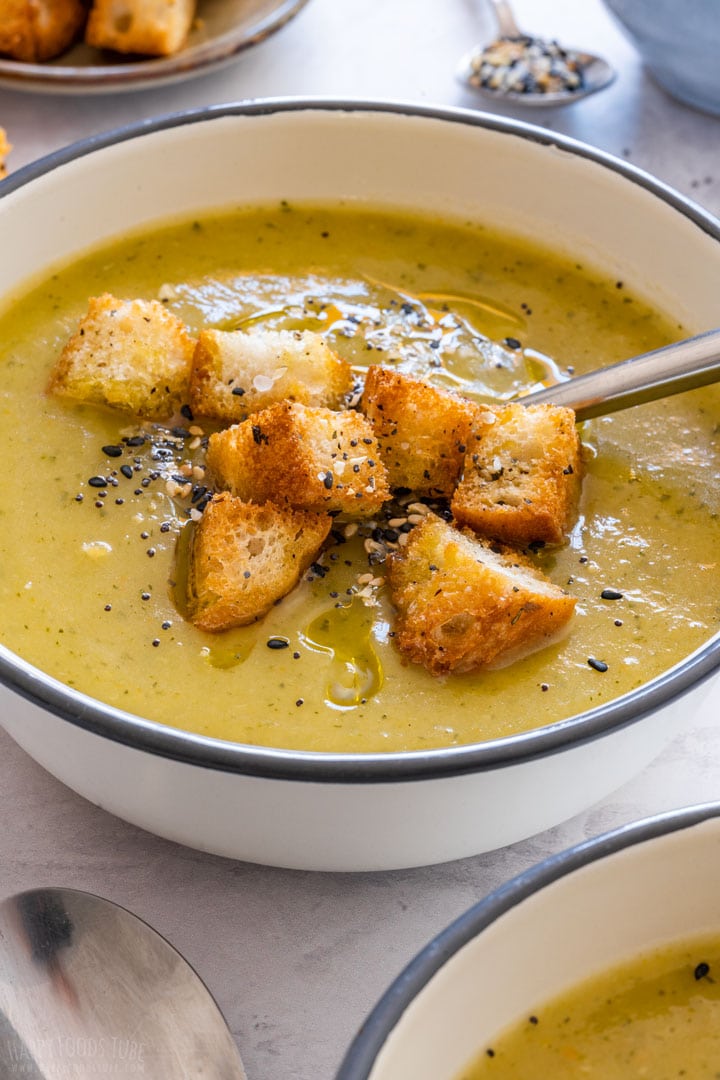 Useful tips
I recommend serving this veggie soup as a starter or alongside a more-filling meal to make sure you won't get hungry soon after.
Here are some serving suggestions:
With the bread of some sort – homemade potato bread or focaccia bread are delicious options.
Salad – Burrata salad or a simple tossed salad.
To add an extra flavor, drizzle with olive oil and sprinkle some seeds over (We love sprinkling some everything bagel seasoning. And, croutons or crostini are a must!
This vegetable soup recipe can be tweaked to your liking. If you prefer a richer taste, feel free to add half and half (single cream). Instead of olive oil, use vegetable oil or butter.
Omit a vegetable you don't have on hand. Use homemade chicken stock or any broth you like.
Sometimes, the skin of zucchini can be bitter. If not sure, peel it before adding to the pot.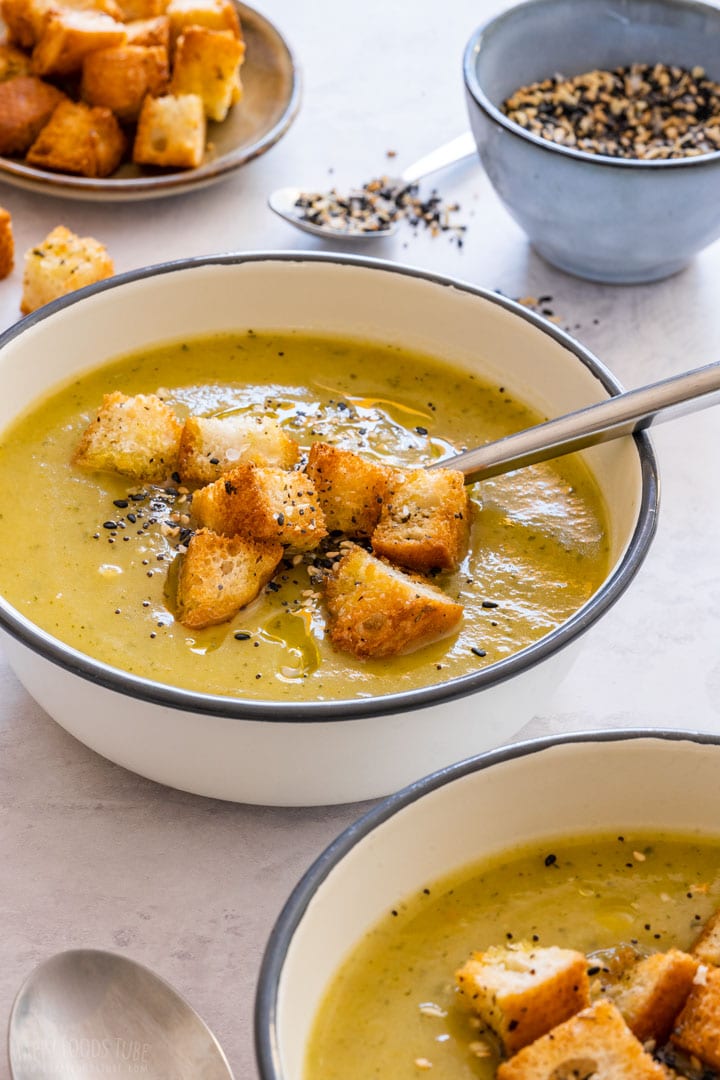 Creamy Vegetable Soup
This easy-to-make creamy vegetable soup is ready on your table in 35 minutes. It is perfect for meal planning, quick lunch, or dinner. Suitable for the freezer!
Ingredients
2

tablespoons

olive oil

1

onion

(medium) minced, see note 1

2

celery ribs

, see note 2

2

carrots

(large)

3

zucchini

, see note 3

3

potatoes

(medium), see note 4

1

teaspoon

dried parsley

, see note 5

1

quart

vegetable stock

(4 cups/1 liter), see note 6

black pepper

, a generous pinch or to taste
Instructions
To a large pot (at least 5-quart/5-liter), add olive oil and minced onion. Sauté on medium heat until translucent, about 4 minutes, stir once or twice.

Meanwhile, dice celery, peel and slice carrots and add them to the pot.

Dice potatoes and add them to the pot together with parsley, vegetable stock and black pepper.

Cover with a lid and bring to a boil. Reduce the heat to low and simmer covered for 20 minutes or until the vegetables are done.

Puree, taste (add seasoning if needed) and serve!
Notes
Use white or yellow onion.
1 celery rib = 1 individual stick/stalk.
I used medium size zucchini, weighing about 2 pounds (900 grams) in total.
1 pound (450 grams) of potatoes.
Instead of dried parsley, you can use fresh flat-leaf parsley – the quantity depends on your liking. About a tablespoon finely chopped would be perfect.
Vegetable stock can be substituted with any kind of stock/broth or stock cubes and water. I used regular stock. If using low sodium, you might need to add more salt.
Tip: The smaller you cut the veggies the quicker they cook.
Serving suggestions are in the post above this recipe card.
Nutrition Facts
Creamy Vegetable Soup
Amount per Serving
% Daily Value*
* Percent Daily Values are based on a 2000 calorie diet.
** As an Amazon Associate I earn from qualifying purchases.
LEAVE A COMMENT
Other soup recipes you might like: