Smoked salmon bites. Slices of bread topped with Philadelphia cheese, salmon, lemon and garnished with parsley. Easy and fast appetizer for any party!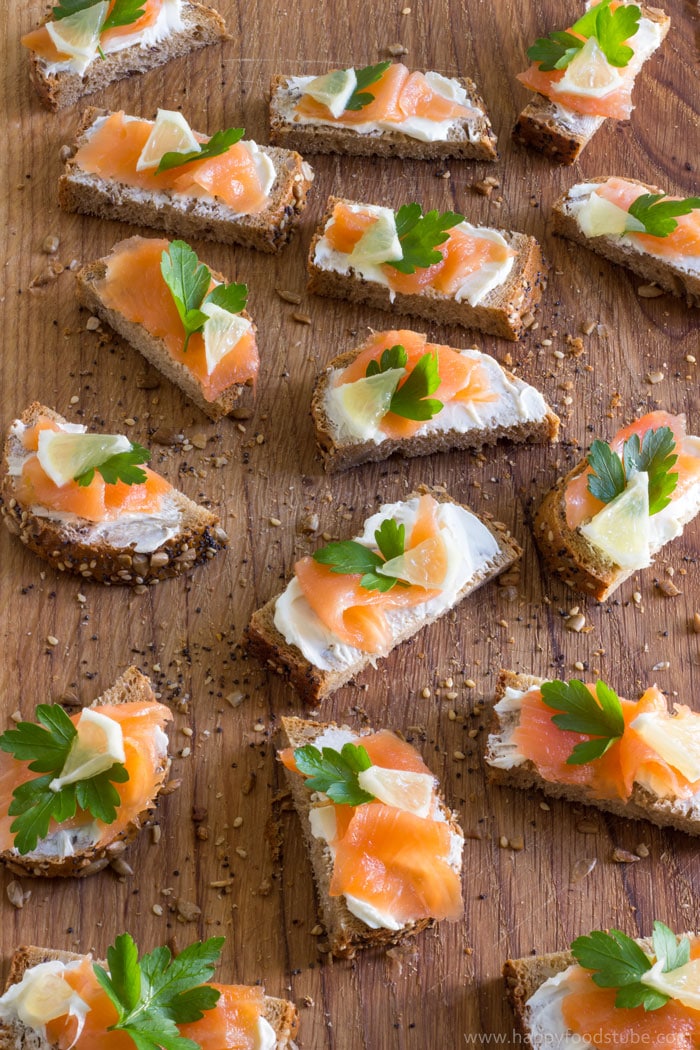 So here we go again … Appetizers! Hope you are not tired of me making them! But I can't help it! I love them and they are great for entertaining, aren't they?
These are very very easy and you can't beat them. OK, maybe you can with these Mango Chicken Appetizers or these Blue Cheese Palmiers, but when it comes to preparation these are definitely the fastest to make! Also it depends what you prefer. I like all of them and wouldn't be able to choose my favorite ones here.
So I know many of you are huge football fans and game day snacks are popular this time of the year! I don't live in your part of the world so I know nothing about football or game day entertaining but I know a lot about easy finger food ideas!
Mainly because I like snack foods and because they are so easy and versatile! And they are great for entertaining at home!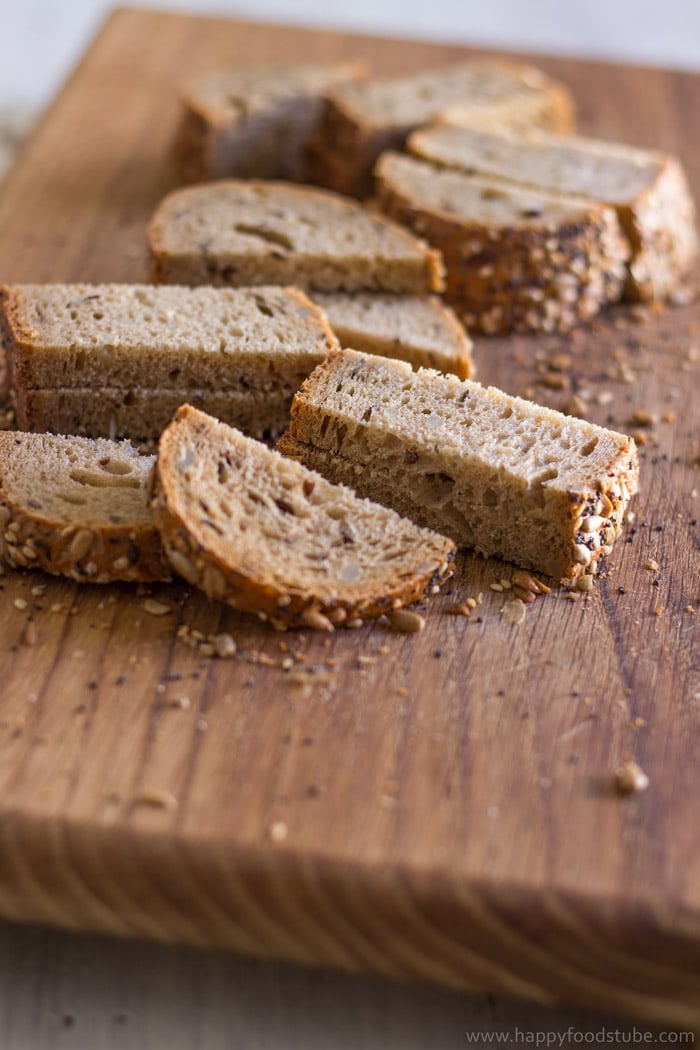 In Slovakia dinner parties are not widely popular. However, popping into friends' or family's house for a while is!
So imagine a 2 hour visit where people enjoy each others company with a glass of wine (or other beverage) while nibbling on various types of appetizers like these easy smoked salmon bites. That's how the home entertaining looks like in Slovakia (well, mostly).
What about you? What way do you do entertaining at home? Are dinner parties the thing where you come from or you just make snacks for your guests like we do? Let me know! I'd like to know this!
Smoked salmon bites recipe breakdown:
So because it is so easy there is not much to write here. All you need to have is good quality bread. I love sourdough bread or dark multi-seed bread so that's what I usually use. You can use other types of bread too, but I suggest you buy some artisan loaf.
Trust me you'll be in for a treat. The bread can be toasted or not. To be honest I made it both ways and I liked it but you can totally make these without toasting.
Second thing you will need is Philadelphia cheese or any other similar alternative. You won't use much of it – maybe 2 tablespoons.
The main ingredient here is smoked salmon, obviously! You can't make smoked salmon canapes without the salmon part. So all you have to do is cut salmon into strips and arrange on each bread slice.
Now for the tiny lemon triangles: They add these smoked salmon bites a citrusy kick and go really well with salmon. The trick here is to put only a tiny piece of a lemon on each canape, just so you taste the lemon but it's not overpowering.
The garnish: I used parsley because I am probably a parsley addict. You can use dill instead as long as it's fresh. However, I prefer parsley.
So that is about it! It's a simple assembling process that anyone can make. Hope there are some smoked salmon and cream cheese lovers out there who will enjoy this recipe and give it a go!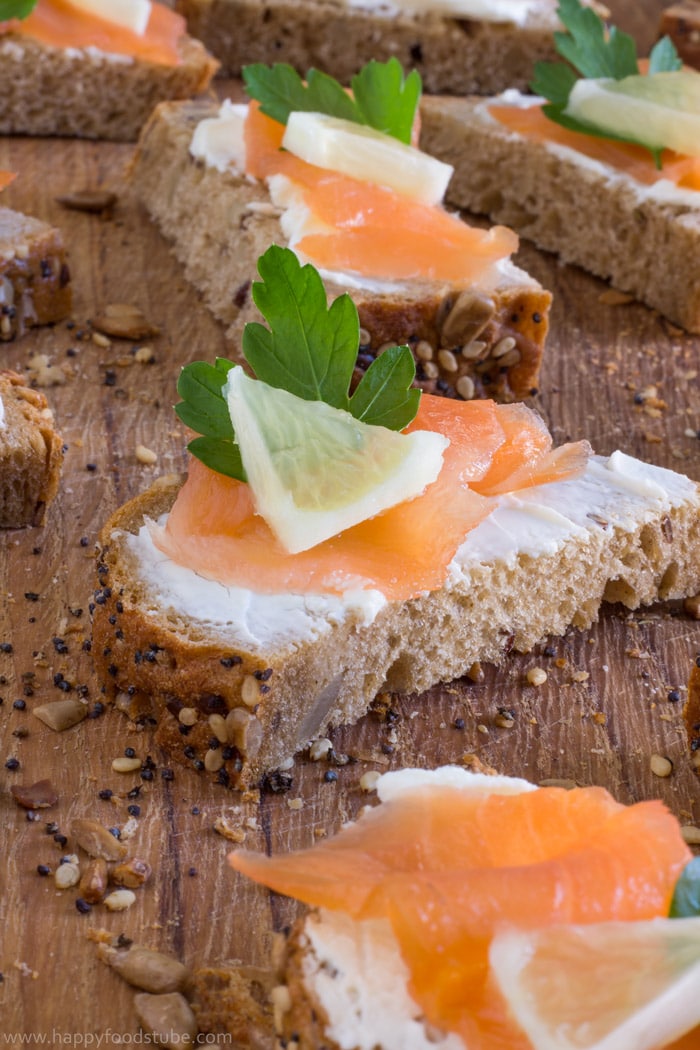 Servings:
It is not easy to put a number of servings on appetizers because this will depend on the number of your guests, length of the party, size of the snacks etc. I have written a short guide on the numbers here in this post: Anchovy Hors d'Oeuvres.
By the way:
If you are looking for other easy party food ideas, I suggest these Waldorf Cheese Balls or Homemade Popcorn Chicken or these Mini Vegetarian Puff Pastry Pizzas!
Happy Entertaining!
Easy Smoked Salmon Bites
Smoked salmon bites. Slices of bread topped with Philadelphia cheese, salmon, lemon and garnished with parsley. Easy and fast appetizer for any party.
Ingredients
2.8

oz

Smoked Salmon

(80g)

2

tbsp

Philadelphia Cheese

(or equivalent)

3

Lemon Slices

4

slices

Sourdough Bread

A Few Sprigs

Fresh Flat Leaf Parsley

(optional)
Instructions
Throw bread slices in a toaster (optional). Meanwhile slice the lemon. Cut off the zest which is usually bitter. Now cut each slice into tiny triangles – follow the white membranes. You will need about 2-3 lemon slices for this.

Spread the cheese over bread. Now cut into bite size pieces (any way you like).

Cut the salmon into strips and arrange on each piece of bread. Top with a tiny lemon triangle and garnish with fresh parsley.

Arrange on a plate/chopping board or a tray and serve!
Nutrition Facts
Easy Smoked Salmon Bites
Amount per Serving
% Daily Value*
* Percent Daily Values are based on a 2000 calorie diet.
** As an Amazon Associate I earn from qualifying purchases.
LEAVE A COMMENT
RELATED POSTS