Making this homemade tuna pizza is easy, you only need a few common pantry ingredients! You can make pizza dough as well as pizza sauce from scratch following my recipes.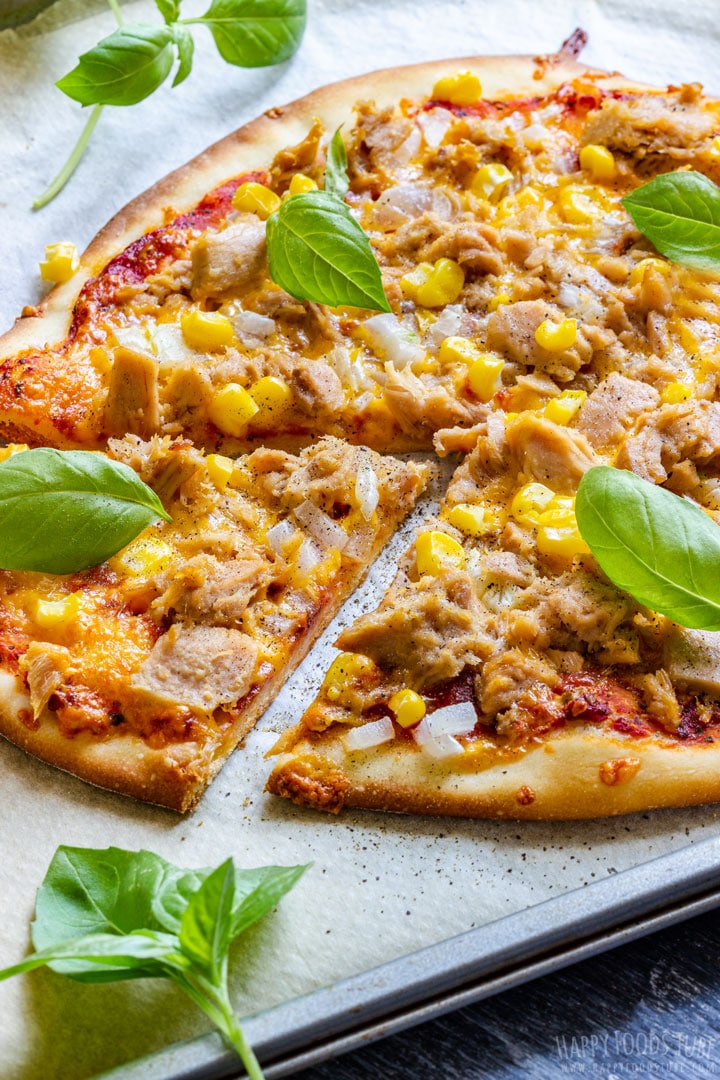 Use up your pantry ingredients and make this simple tuna pizza with sweetcorn. No pizza stone is needed to make it!
This post includes FAQs you might have not only about this tuna pizza recipe but about making pizza at home in general.
How to make tuna pizza with sweetcorn
Say you have your pizza dough rolled out. Place this right away onto a baking sheet. This is important and here is why.
If you forget and leave it on your worktop and top the pizza with tuna and the rest of the ingredients first, then you might have a problem transferring it onto the baking sheet (unless you have a pizza peel, that is).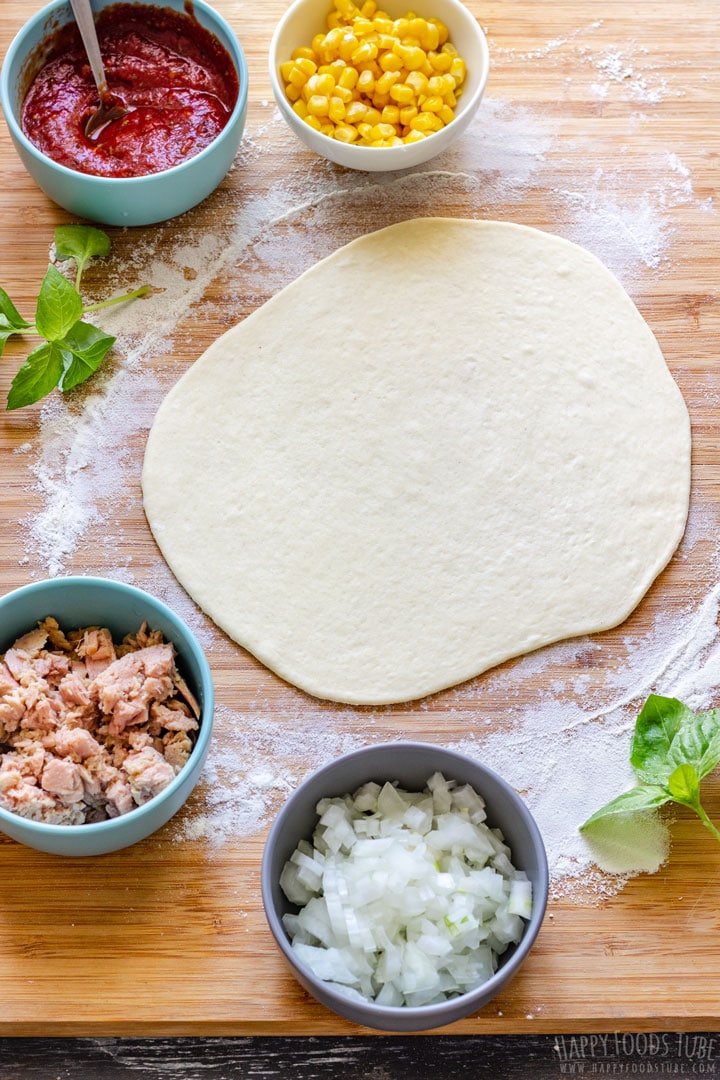 There is no right and wrong when it comes to adding toppings on pizza but, remember to start with sauce (obviously) followed by cheese.
After that, feel free to add whatever you like and as much as you like in any order you wish.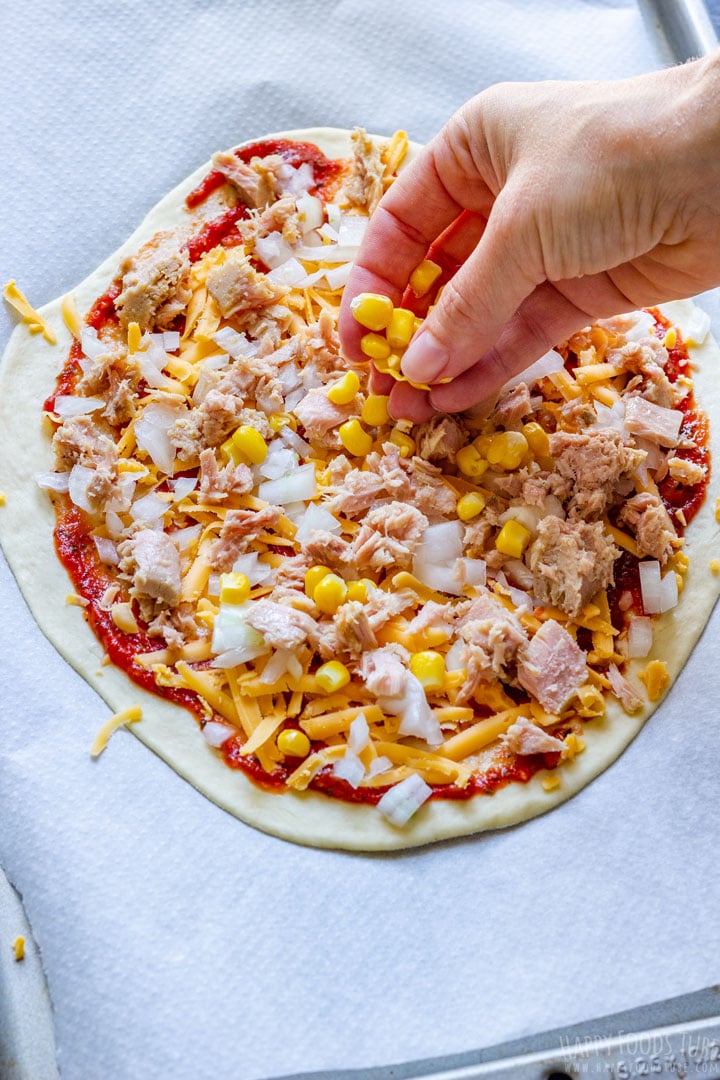 Can you make pizza without a pizza stone?
Yes, you can! In fact, it's quicker because you don't have to wait until the stone is pre-heated AND you don't need any pizza peel (which is the tool you shove the dough into the oven with that is pretty much necessary).
You don't even need a pizza pan. I have been cooking pizza on a baking tray (or cookie sheet) for years now. Before that, I would use the pan, but I had not noticed any significant difference between these two.
Oven temperature for pizza
This may be slightly different for each of you, but in general, it should be somewhere between 400-450 Fahrenheit (200-220 Celsius). And it should not take long – about 10-12 minutes, depending on the thickness of your pizza dough.
Detailed instructions for this tuna and sweetcorn pizza can be found in the recipe card below this post.
Note that if you are using store-bought pizza crust, then follow the packaging information on how to cook pizza.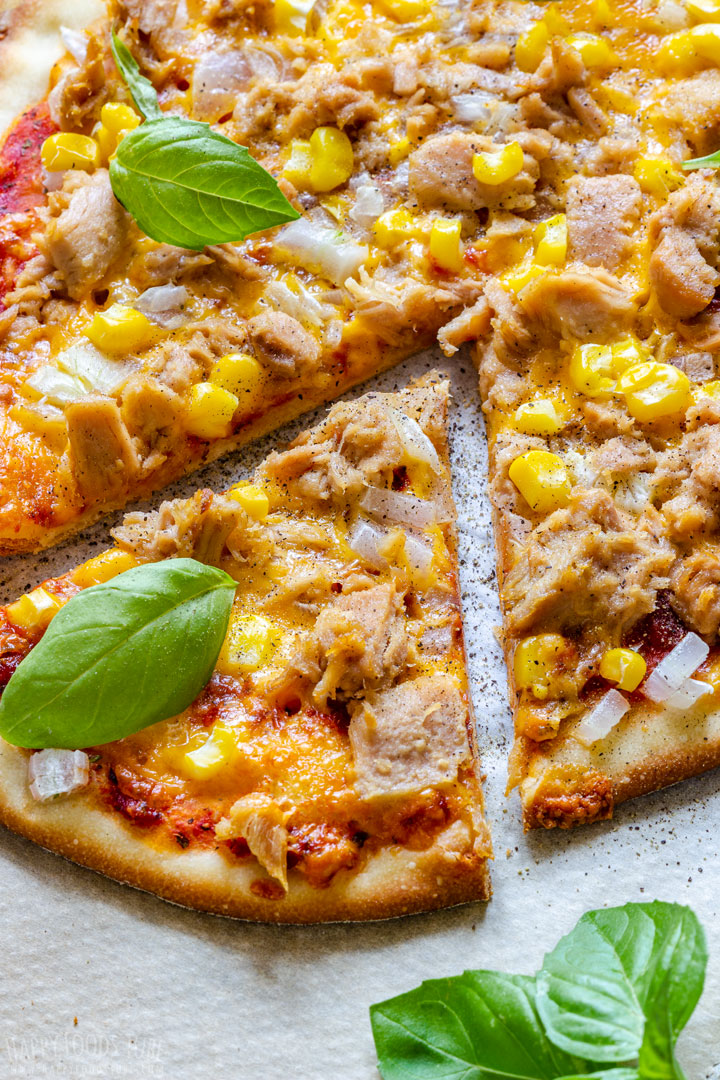 The Dough and Sauce
I highly recommend making pizza from scratch using this recipe for Homemade Pizza Dough. It is a simple recipe that yields 4 medium-large pizzas (depending on how thick you roll them out).
If you don't want or need to make so many, you can store the fresh pizza dough in the fridge or freezer and use it a few days later (weeks when frozen) for this Salami Pizza or Calzone Pizza.
I always make my own Pizza Sauce because it is easy and quick. In 3 minutes, I am done, and I can make as much/little as I like. Plus, there is no cooking or processing involved at all! Simply mix all the ingredients and you are done.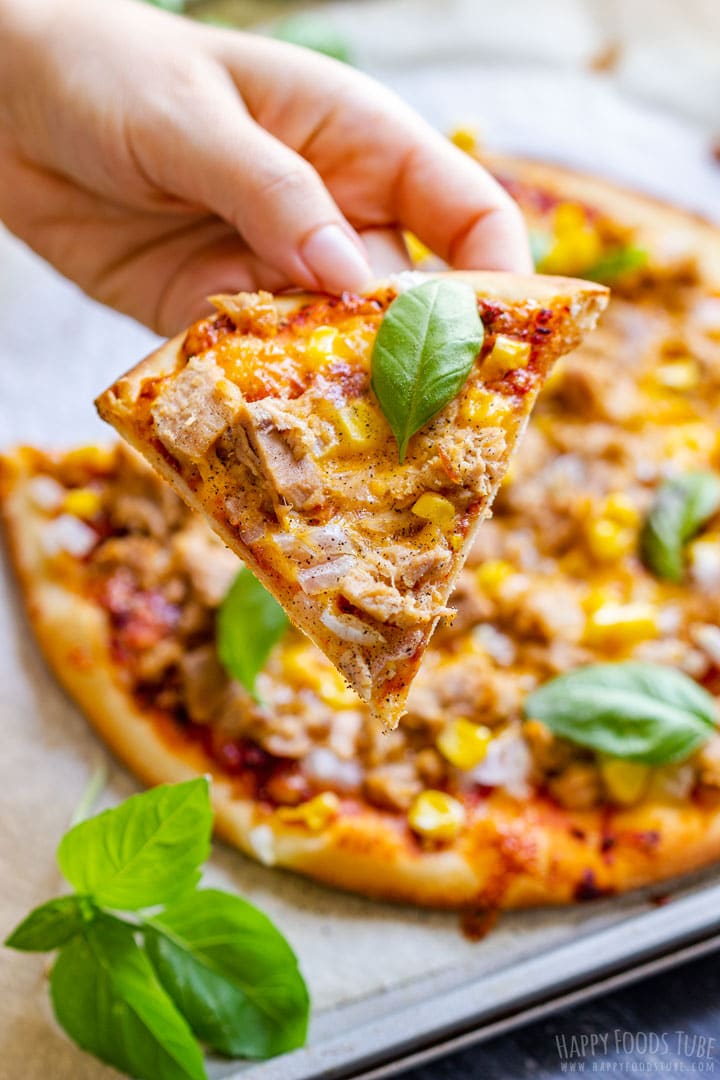 Like to see more easy canned tuna recipes?
Here are some ideas for you:
Tuna Pizza
Making this homemade tuna pizza is easy, you only need a few common pantry ingredients! You can make pizza dough as well as pizza sauce from scratch following my recipes.
Servings:
2
Medium Pizzas
Ingredients
1

pound

pizza dough

, see note 1

3

tablespoons

pizza sauce

, see note 2 for homemade pizza sauce

1

cup

shredded cheese

, see note 3

5

ounces

canned tuna

, drained, (150 grams), see note 4

½

cup

sweetcorn

, see note 5

basil leaves

, fresh (optional)
Instructions
Roll out the pizza dough. If you like thin crust, roll as thin as possible. When ready, transfer the rolled-out dough onto a baking sheet lined with baking parchment paper. Top it with half of the sauce, shredded cheese, tuna and sweetcorn.

Repeat with the second pizza.

Bake in the oven at 400° Fahrenheit (200° Celsius) for 10 minutes or until the bottom is nice and brown (see note 7).
Notes
You will need enough pizza dough for 2 medium pizzas (about a pound/450 grams). You can also use pre-cooked pizza crust or check my recipe for homemade pizza if needed.
I have a recipe for a Quick Pizza Sauce on the blog, but you can use shop-bought or any pizza sauce you like.
Cheddar, mozzarella, edam, or gouda work great.
I used tuna in olive oil. You can use any kind of tuna (in brine or normal oil) as you will be draining the liquid.
Either canned or frozen sweetcorn can be used. Feel free to use as much as you like.
If you have a large baking sheet/tray, you might be able to fit both pizzas on one.
The longer you keep your pizza in the oven the crispier the edges will get. However, if left in too long, you might end up with a dried-out pizza. For that reason, always check the bottom first. If you see nice brown spots, you can take it out. Sometimes, the edges might still be quite pale, but the pizza is ready.
For more tips and FAQs, I recommend reading the post above this recipe card. It also includes links to recipes for pizza dough and pizza sauce.
Nutrition Facts
Tuna Pizza
Amount per Serving
% Daily Value*
* Percent Daily Values are based on a 2000 calorie diet.
** As an Amazon Associate I earn from qualifying purchases.
LEAVE A COMMENT
You may also like: