These frozen banana pops are the perfect summer treat for kids as well as adults! Dipped in Greek yogurt and sprinkled with nuts and seeds, they are not only good for you, but also refreshing and completely customizable.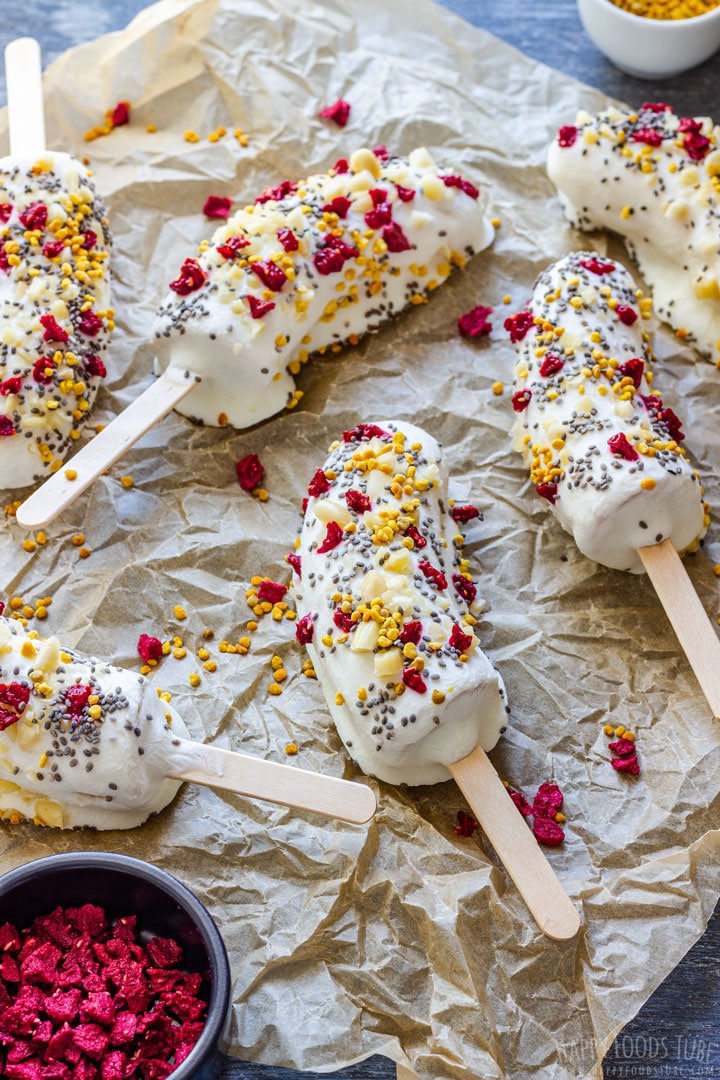 Why not add this simple frozen banana dessert recipe to your meal prep. Or turn it into a fun weekend project to do with your kids. They will definitely enjoy making these frozen yogurt bananas.
This post contains full recipe for frozen yogurt bananas, a video and tips and ideas for toppings.
Topping ideas for frozen banana pops with yogurt
Nuts – hazelnuts, walnuts, pecans, almonds – use anything you like or have on hand and chop them roughly.
Seeds – you can use chopped sunflower or pumpkin seeds or poppy seeds.
Freeze-dried berries – anything you like or you can get your hands on. They are not cheap but a little goes a long way or buy in bulk (if you see they have a better price). You can use them in so many ways – add them to Greek Yogurt Breakfast Bowl or oatmeal.
Edible dried lavender sprinkled over gives them a different flavor and aroma (I have a recipe for Chocolate Covered Dates that are sprinkled with lavender and the taste is amazing! They are so delicious enjoyed right from the freezer).
Goji berries
Granola/rice crispies
Shredded coconut
Chocolate chips or chocolate shaving
Sprinkles – kids like them
Storing banana yogurt popsicles
Frozen banana pops with yogurt have to be stored in the freezer. If you put them in the fridge, the yogurt will melt.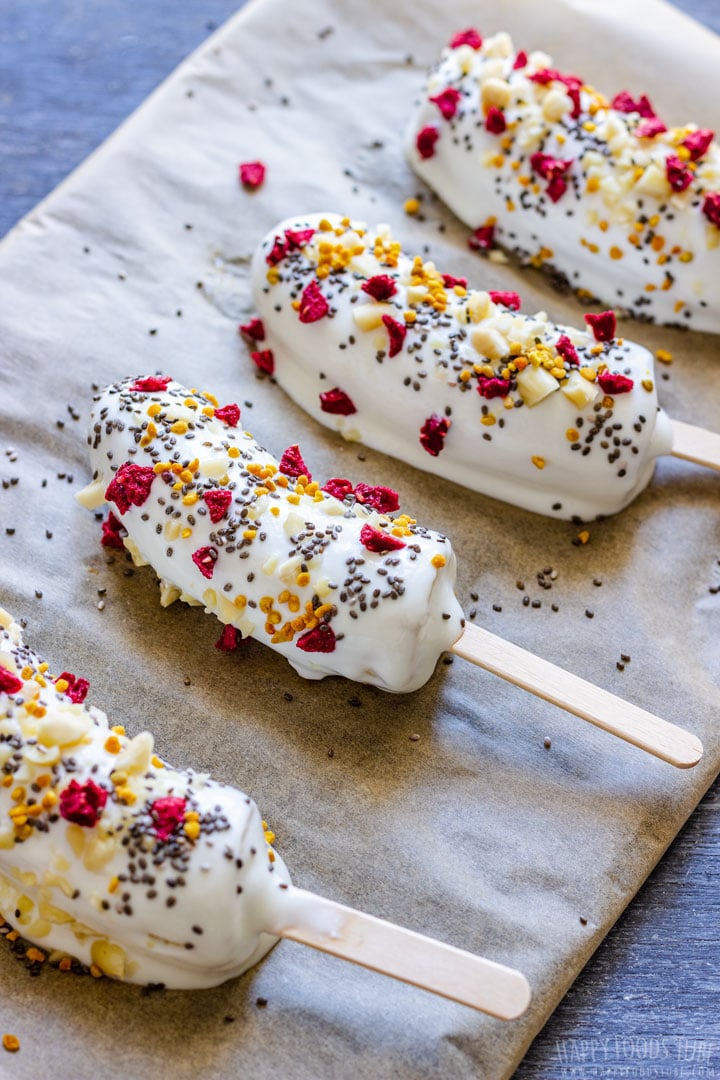 Tips for making the best frozen banana pops
For smaller kids, you can cut the bananas into quarters. Just make sure they are still long enough so you can insert the popsicle sticks in.
I like using plain Greek Yogurt as it's good for you and it's thick and so the yogurt will actually stay on the bananas. If you have a favorite yogurt brand that is flavored but has a thick consistency, feel free to use it. If you do, you can omit almond butter completely.
Soft or over-ripen bananas are not good for these frozen yogurt banana pops. Keep them for other baking project like Banana Bread!
You can roll the yogurt-covered bananas in nuts and seeds instead of sprinkling them, but you will need to increase the quantities of toppings as these frozen banana treats will need way more of those.
Sticks can be inserted into bananas before or after flash-freezing bananas for 30 minutes.
More recipe ideas for healthy frozen summer treats:
Want to see how to make Healthy Frozen Banana Pops? Watch the video!
Frozen Banana Pops
These frozen banana pops are the perfect summer treat for kids as well as adults!
Ingredients
Toppings (see note 3):
¼

cup

Almonds

without skin, roughly chopped

4

teaspoons

Freeze Dried Raspberries

2

teaspoons

Pollen

, optional

2

teaspoons

Chia Seeds

, optional
Instructions
Peel bananas and cut them in half. Place them onto a tray lined with baking parchment and put them into the freezer for 30 minutes.

Meanwhile: In a soup bowl, combine Greek yogurt with almond butter and mix until well combined. Set aside. Gather any topping you would like to use – if using nuts, then roughly chop these. Set aside.

Take out the bananas from your freezer and stick an ice pop stick into each one of them. Take one and cover it in the yogurt mixture (use a spoon) and place it onto the tray. Repeat with the rest of them.

Sprinkle them with chopped almonds, freeze dried raspberries, pollen and chia seeds (or toppings of your choice). Place the tray back into the freezer and let them set. This will take about an hour.

Enjoy from frozen!
Notes
Hard bananas are better than ripe ones as they won't break when inserting a stick inside.
I used thick unsweetened Greek yogurt. You can use other yogurt if you like, just make sure it's not too runny so it sticks to the bananas.
You can substitute or omit some of the toppings or use what you like (for more tips, check the post above this recipe card).
The yogurt mixture is enough for 4 medium-large bananas (8 halves).
Nutrition Facts
Frozen Banana Pops
Amount per Serving
% Daily Value*
* Percent Daily Values are based on a 2000 calorie diet.
** As an Amazon Associate I earn from qualifying purchases.
LEAVE A COMMENT