Deliciously crispy carrot broccoli fritters, perfect for vegetarians and veggie lovers. Add a healthy twist to your meals with these savory patties!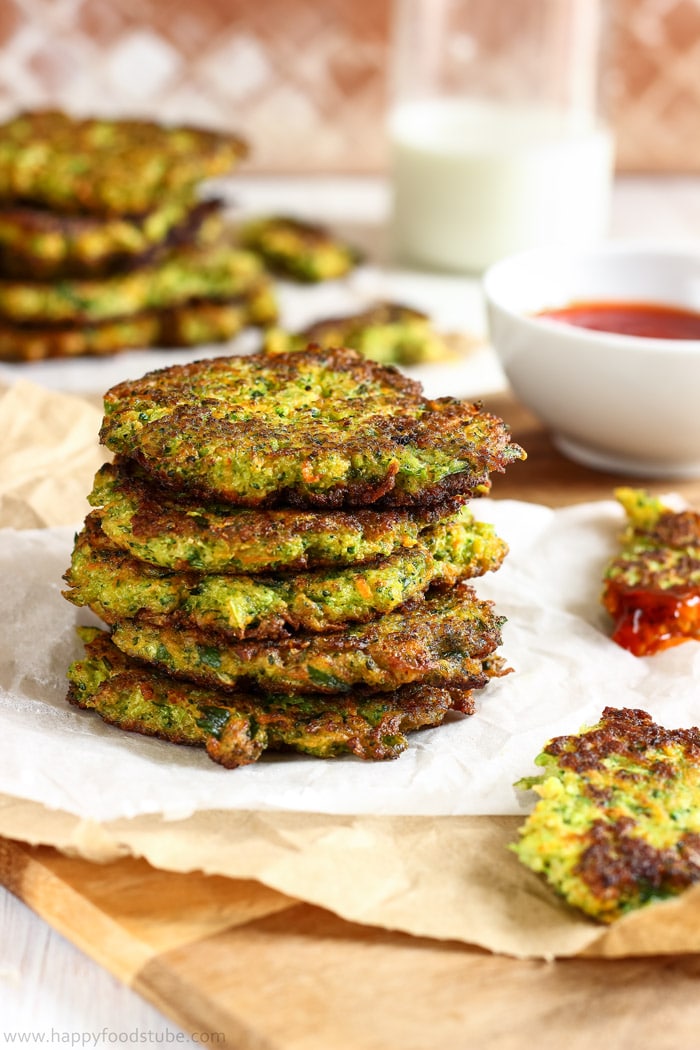 They are also the fluffiest fritters you will ever taste! Some vegetable fritters might be dense inside but not these ones …. These are extra soft on the inside thanks to one particular step. So read on! All ingredients I used complement each other well and create perfect vegetable patties with amazing flavor!
These broccoli fritters would be great as an alternative to meat burgers. You can sandwich them between buns and add more veggies & sauces.
My mom usually serves this type of fritters with potatoes and makes it a proper dinner dish. I like to toast bread, drizzle some sauce over it (such as Thai sweet chili sauce), and top it with one or two broccoli fritters. The best thing ever!
By the way, this chickpea soup, red cabbage salad, or mango kale salad are also perfect for a meat-free diet. Just saying. Now that we are in lent season. Just so you know, this does not mean they are only for those who don't eat meat. I eat everything and I love these dishes so hopefully you will too.
Now what I love about these vegetable patties is their versatility. Dinners, snacks, appetizers, party food, entertaining at home – they are perfect for any occasion!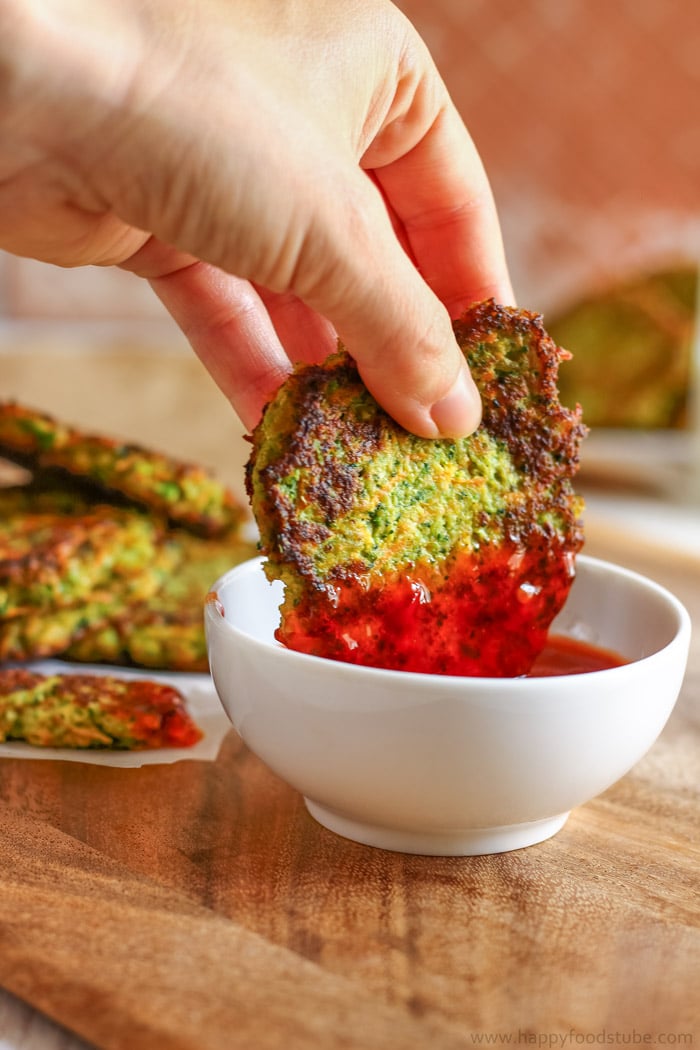 How to make fluffy carrot & broccoli fritters
Grated carrots, and broccoli "crumbs" are mixed with parsley, breadcrumbs, seasoning, and egg yolks. At last, whipped egg whites are folded in. Whipped egg whites make them extra fluffy inside so it's important not to skip this step if you are after soft & fluffy broccoli fritters. This is the trick to get the extra fluffiness from the inside!
To get the broccoli crumbs I simply use a food processor and pulse it several times until I am happy with the way they look. If you don't have a food processor, you can simply finely chop them with a knife.
Then comes the frying part. Just fry them with a bit of oil. I usually cover the bottom of my frying pan with oil. Not much, just so it's covered.
Tip: Use the largest frying pan you have. It will save you some time as you can fit more fritters in!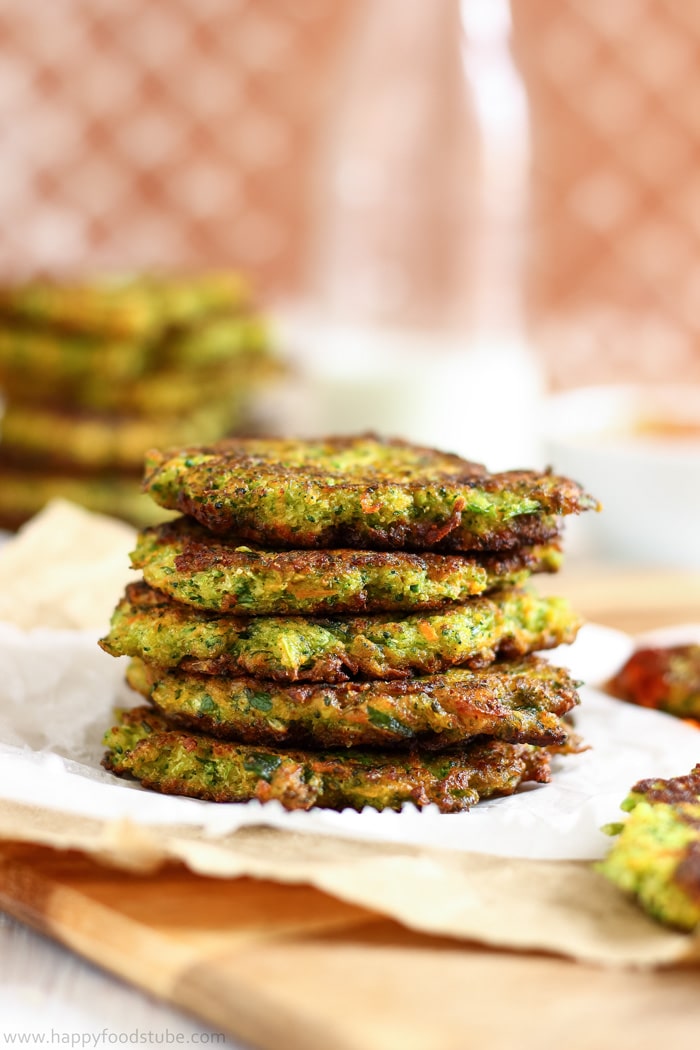 What to serve broccoli fritters with?
For dinner – with boiled, roasted potatoes, potato salad, mashed potatoes.
Snack – on a toast with a drizzle of ketchup, avocado mayo, Thai sweet chili sauce, mustard, …
As a vegetarian burger (add other veggies + a bun and you are good to go).
As a snack/appetizer with a dip of your choice.
Who are these easy vegetable fritters suitable for?
Vegetarians.
People who want to add more veggies to their diet.
Anyone who loves good food!
+ they are also dairy-free.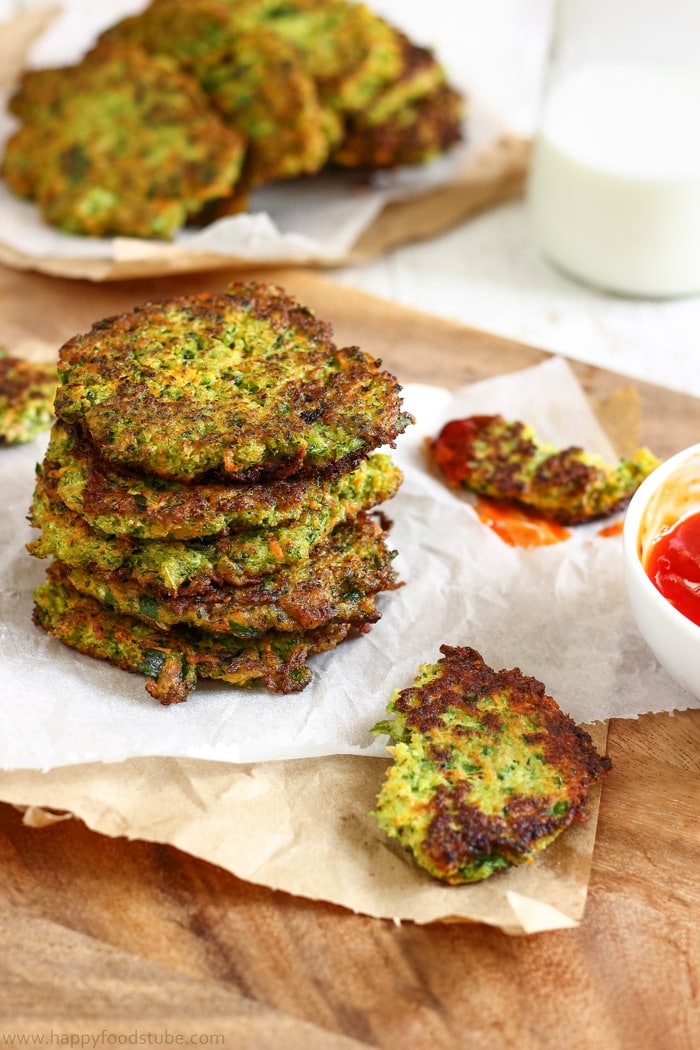 Ingredient Substitutions/Alternatives:
Breadcrumbs – you could omit these if you don't have them on hand.
Himalayan Salt – use any salt you have but bear in mind that table salt as well as sea salt are saltier so you might need to use less.
Sunflower Oil – olive oil is also OK to use.
Fresh Flat Leaf Parsley – this herb is pretty important and I would not omit it. You could use cilantro instead.
Fluffy Carrot Broccoli Fritters
Deliciously crispy carrot broccoli fritters, perfect for vegetarians and veggie-lovers. Add a healthy twist to your meals with these savory patties!
Ingredients
1.1

pound

broccoli head

(500 g)

4

carrots

(medium)

4

tablespoons

plain flour

3

eggs

, separated

1

teaspoon

pink himalayan salt

1/4

teaspoon

black pepper

1/4

cup

panko breadcrumbs

(50 g)

1

cup

flat leaf parsley

(roughly chopped)

sunflower oil

for frying
Instructions
Rinse broccoli and carrots under running water. Peel carrots and finely grate. Roughly chop broccoli and process in a food processor. This will take less than a minute.

In a bowl, combine broccoli "crumbs", grated carrots, salt, black pepper, breadcrumbs, flour and egg yolks.

Beat the egg whites with electric beater until firm. Fold in the whites into the broccoli mixture.

Fry each fritter 2-3 minutes on each side. Use a little oil, just enough to cover the surface and add more throughout frying, if needed.

Serve with dip of your choice or as a side or potatoes as main!
Notes
Use a large frying pan, if you have one. The larger the pan, the better. This will reduce the overall cooking time.
Nutrition Facts
Fluffy Carrot Broccoli Fritters
Amount per Serving
% Daily Value*
* Percent Daily Values are based on a 2000 calorie diet.
** As an Amazon Associate I earn from qualifying purchases.
LEAVE A COMMENT
RELATED POSTS