Looking for healthy snack recipes that your kids will enjoy? This collection of healthy after school snacks has got you covered. From energy bites, to bars, brownies, hummus or roasted nuts.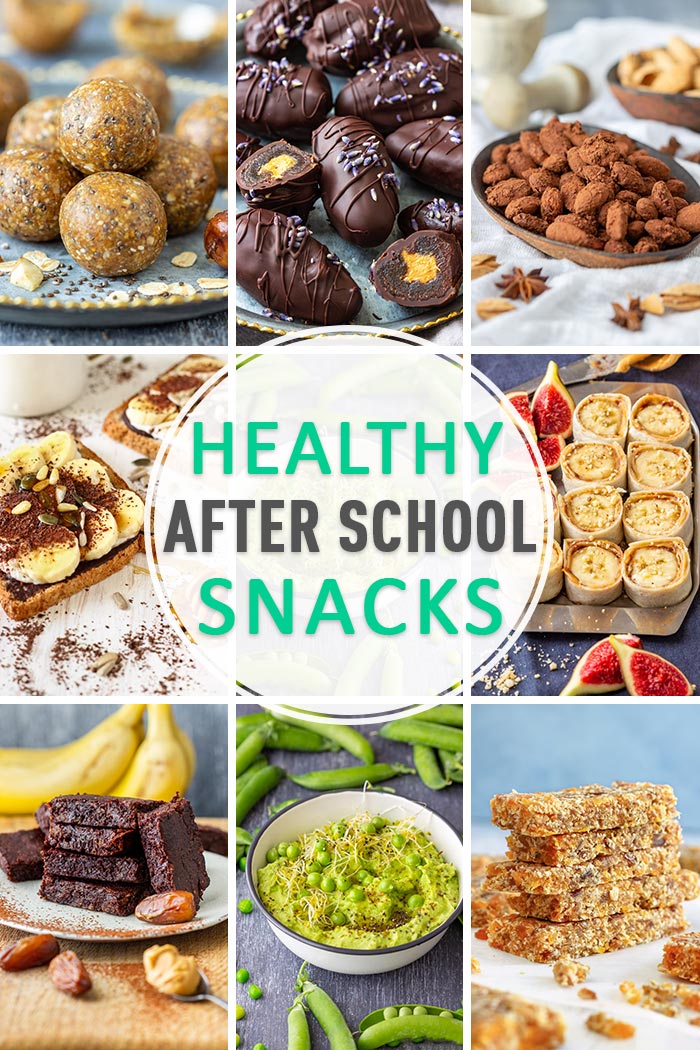 These healthy snacks are not only for kids, but for anyone who is looking for healthy snack alternatives that taste good. They are also great for work, school, or in between meals.
You can choose sweet or savory, baked or no bake. These healthy after school snacks are not only easy but also quick to make. Most of them can be prepped ahead of time so you can just take them out from your fridge/freezer/pantry and serve whenever needed!
This recipe collection includes vegan snack recipes as well as gluten free and dairy-free.
1. Peanut Butter Banana Roll Ups are one of the easiest and quickest snacks to make. Ready in 5 minutes, this sushi-like snack can be customized to your liking. If you use homemade hazelnut spread, these can also be vegan.
2. Fruity No Bake Energy Bars are ready in 15 mins and can be stored in the freezer. What I love about these bars is the fact, that they can be enjoyed right after you take them out from the freezer! (naturally gluten-free, vegan, dairy-free).
3. Healthy after school snacks don't have to be boring! Take these Chocolate Covered Dates. They may look fancy but there is no rocket-science behind making them. Omit the lavender and extra drizzle of melted chocolate and you cut down your prep time.
All you need is peanut butter, dates and chocolate to make them. And they are ready in 25 minutes! I love making a large batch of these and keep the in the freezer. Then I simply take out as many as I want! (naturally gluten-free, vegan, vegetarian).
When it comes to healthy after school snacks, these dates cannot be beaten.
4. Vegan Peanut Butter Brownies – A healthy treat that boosts your kids energy and satisfies their cravings (or yours). They are rich in flavor and very addictive. Ready in 15 minutes, they can be whipped up easily any day of the week. Also refined sugar free!
5. Green Pea Hummus is a protein-rich snack that takes literally 5 minutes to make. It's also vegan friendly, naturally gluten-free and dairy-free.
6. Ricotta Chocolate Banana Toast – This is one of the healthy snack recipes that are ready in no time and taste amazing.
7. Spiced Cocoa Roasted Almonds are hard to resist one you taste them.
8. No Bake Energy Bites are perfect for meal prep. Make them ahead and store them in the freezer. You can also substitute some of the ingredients, if you like. They are gluten-free and dairy-free and one batch is ready in 15 minutes!
9. Tahini Free Avocado Hummus is one of the healthy snack recipes that is so versatile. Spread it on a toast, crackers, rice crackers, or enjoy it as a dip. It has no tahini in it, but it does not mean it's less flavorful. It's naturally gluten-free, dairy-free, nut-free and also vegan.
These recipes are a proof that healthy after school snacks can not only be delicious, quick and easy to make but more importantly good for your kids (and you)!
And even though the title says healthy after school snacks, I hope anyone looking for tasty snack recipes will give some of these a try!