This savory breakfast bowl recipe is not only easy to make, but also versatile. Add, omit or substitute anything you want! This post also includes healthy meal plan recipe ideas.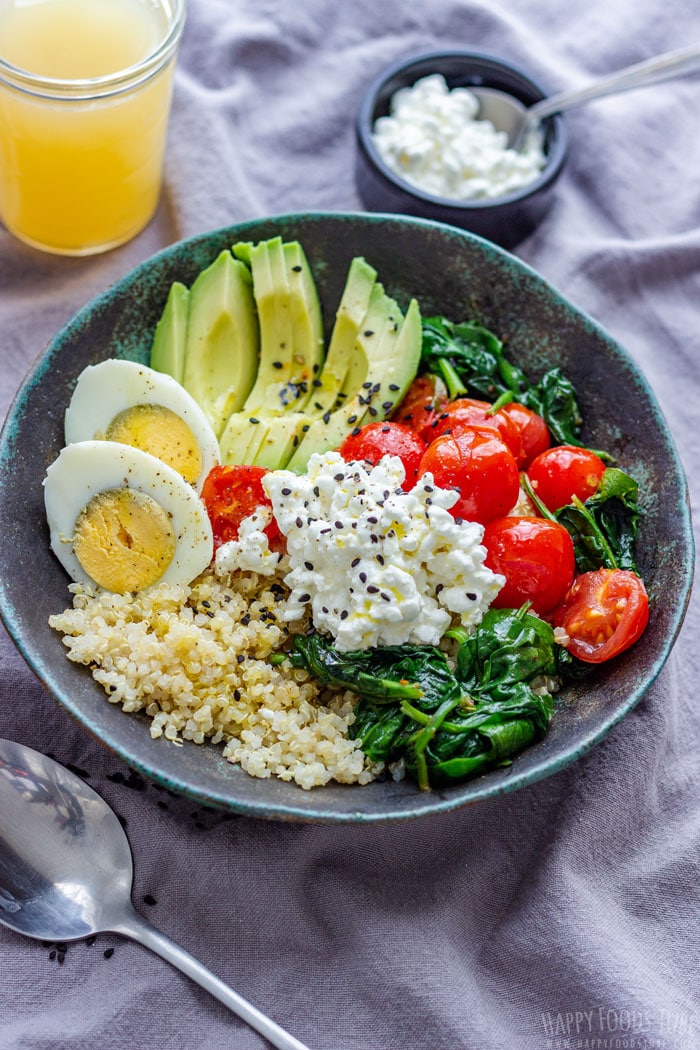 If you want to live healthier this year, but struggle what to eat for breakfast, give this easy breakfast bowl recipe a go.
It's packed with ingredients that are good for you and the best thing about this savory breakfast bowl recipe is the fact that it can be turned into a delicious lunch as well. You can either enjoy it as is or add chicken breast for a more filling meal.
Even a few strips of bacon will work well here and because this savory breakfast bowl is packed with nutrients and fiber you don't have to feel guilty about it.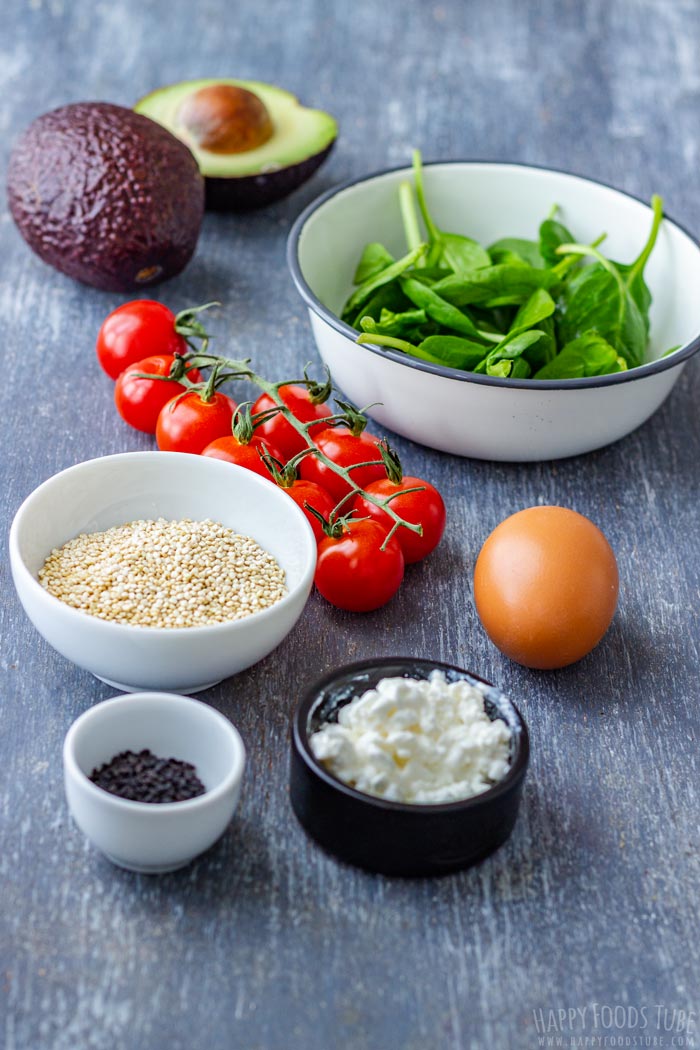 How to make a savory breakfast bowl
This relatively quick breakfast can be put together in 5 minutes, if you cooked the quinoa and egg the night before. In the morning, all you have left to do, is sauté spinach and cherry tomatoes which literally takes no more than 3 minutes.
Meanwhile, cut avocado and peel the egg (if you haven't done already), then arrange everything in a bowl and drizzle with a little bit of olive oil, sprinkle with sesame seeds and you can enjoy your quinoa breakfast bowl within minutes.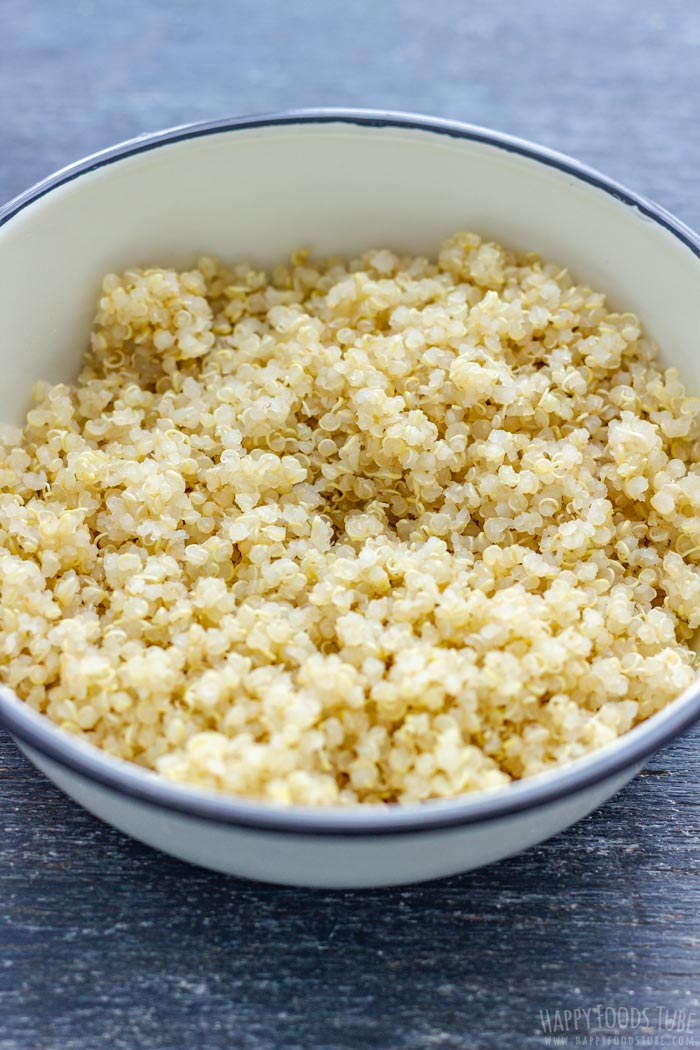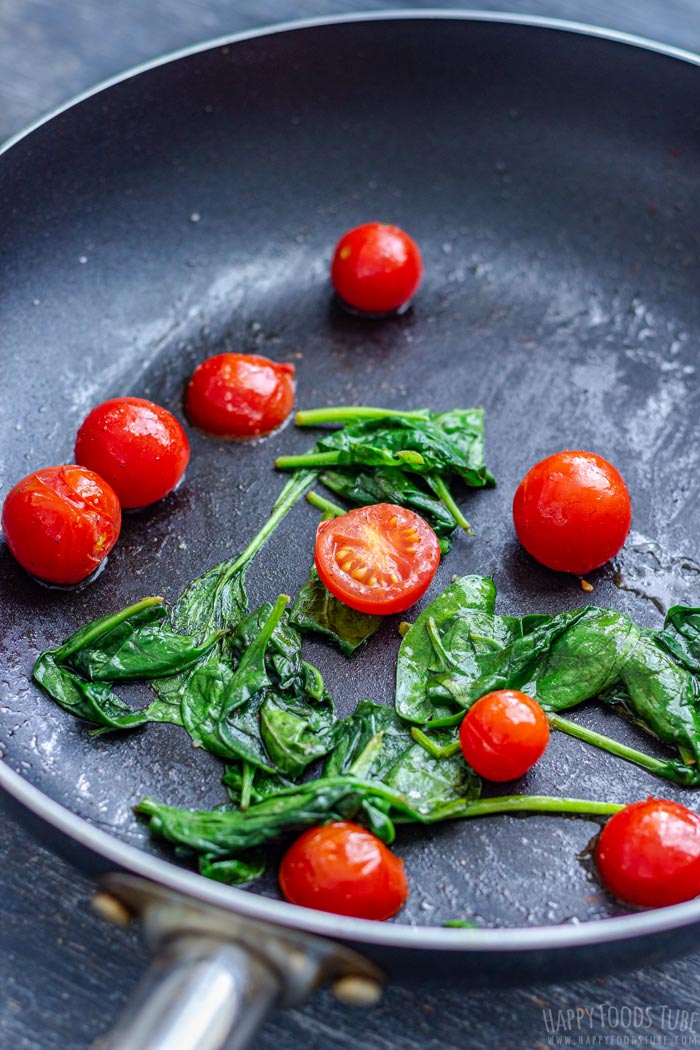 Substitutions
If you don't like spinach you can use fresh arugula or kale instead. You don't have to cook these.
Quinoa can be easily substituted with cooked buckwheat or cooked faro.
Hard boiled eggs can be easily cooked the night before or on Sunday and stored in the fridge until ready to use (with shell on they will last for at least a week. Peeled they will need to be kept in an air-tight container and should last at least 3 days when stored properly). Have you tried cooking them in a pressure cooker? I have a recipe for Instant Pot Hard Boiled Eggs, in case you wanted to try it!
Quail eggs can also be used!
Cottage cheese is an excellent source of protein, so I like to add this to my breakfast meals more often now. You can omit it if you don't want to use it, but I do recommend trying it. You could use mayonnaise instead, but if you are into healthy breakfast recipes, you should only use a little bit.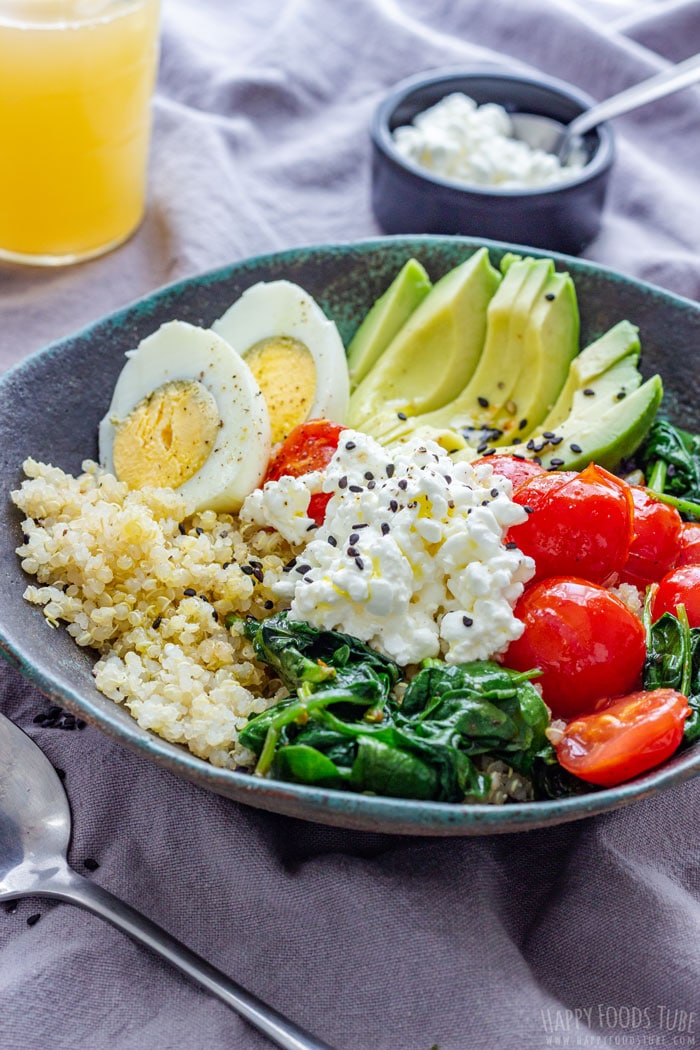 Healthy meal plan recipe ideas:
Here are a few easy healthy recipes that only take a little time to make, but most of them can be made ahead, if needed:
If you feel that this savory breakfast bowl would work better for you as a quick lunch, then no problem. Why not prepare the night before Raspberry Chocolate Overnight Oats?
They are good for you, can be easily made ahead and enjoyed on the go as well. Plus, the addition of chocolate chips makes this quick breakfast somehow more enjoyable, right?
When I wake up I drink a glass of Lemon Ginger Water and I highly recommend it. It does not only hydrate your body, but also has a ton of other benefits that I tried to cover in the post.
I can never survive without any food until lunchtime so Apple Ginger Smoothie is a quick fix for me.
If that is not enough for you, try adding Rice Cakes with Hummus & Tomatoes. They are delicious with Homemade Hummus of any kind (or store-bought).
For lunch or dinner, try Chicken Bacon Salad. It's easy to make and you can use any pre-packaged lettuce leaves that you like.
And as an afternoon treat, you must try Chocolate Covered Dates! They are one of my absolutely favorite healthy snacks.
They are so easy to make and can be stored in the freezer. In fact, I recommend keeping them there and just grab and enjoy a few whenever you feel like it (and if you can, be sure to add some lavender as it does bring these sweets to a whole new level).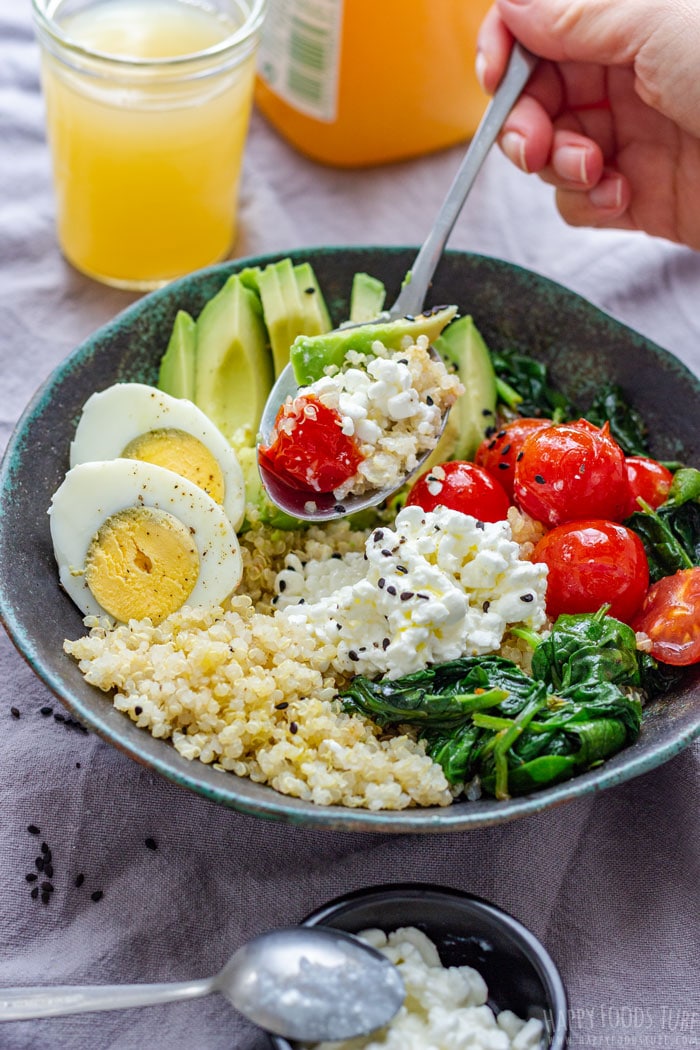 Savory Breakfast Bowl
This savory breakfast bowl recipe is not only easy to make, but also versatile. Add, omit or substitute anything you want!
Ingredients
1.5

tablespoons

olive oil

, see note 1

6

Cherry Tomatoes

, see note 2

A handful of Fresh

Baby Spinach Leaves

Salt

, to taste

black pepper

, to taste

1

cup

Cooked Quinoa

, see note 3

1

Hard Boiled Egg

, see note 4

1

Small

Ripe Avocado

, thinly sliced

¼

cup

Cottage Cheese

Black Sesame Seeds

, optional
Instructions
In a skillet (frying pan), heat up olive oil. Add cherry tomatoes, spinach and season these with salt and black pepper. Saute until the spinach is wilted and cherry tomatoes are slightly cooked, for about 2 minutes.

Meanwhile, get a breakfast bowl. Add in cooked quinoa (seasoned with salt), hard-boiled egg, sliced avocado and cottage cheese. When the spinach and cherry tomatoes are ready, add these to the bowl and drizzle everything with olive oil and sprinkle with sesame seeds (optional).

Enjoy!
Notes
Olive oil – I highly recommend using extra virgin olive oil.
Cherry tomatoes – if they are quite large, cut them in half. If not, you don't have to cut them at all.
Quinoa – there are 3 different types of quinoa so you can use any that is available in your local store. The cooking time may vary slightly so please follow the package instructions. I cook it for about 15 minutes. ¼ cup of raw (dried) quinoa should give you about 1cup cooked.
Cook some eggs the night before, peel them and have them ready in a sealed container for the following morning(s). You can do the same with quinoa – cook a large batch and keep it in the fridge until ready to use. It should last for 3-4 days when stored properly. Fried eggs (sunny side up) or scrambled eggs are also a great alternatives.
You don't have to saute cherry tomatoes and spinach if you don't want to. Just make sure to season them with salt, pepper and olive oil!
Nutrition Facts
Savory Breakfast Bowl
Amount per Serving
% Daily Value*
* Percent Daily Values are based on a 2000 calorie diet.
** As an Amazon Associate I earn from qualifying purchases.
LEAVE A COMMENT
RELATED POSTS