Start the Christmas morning off with some of these sweet breakfasts! A collection of indulgent sweet breakfast recipes to suit everyone's taste.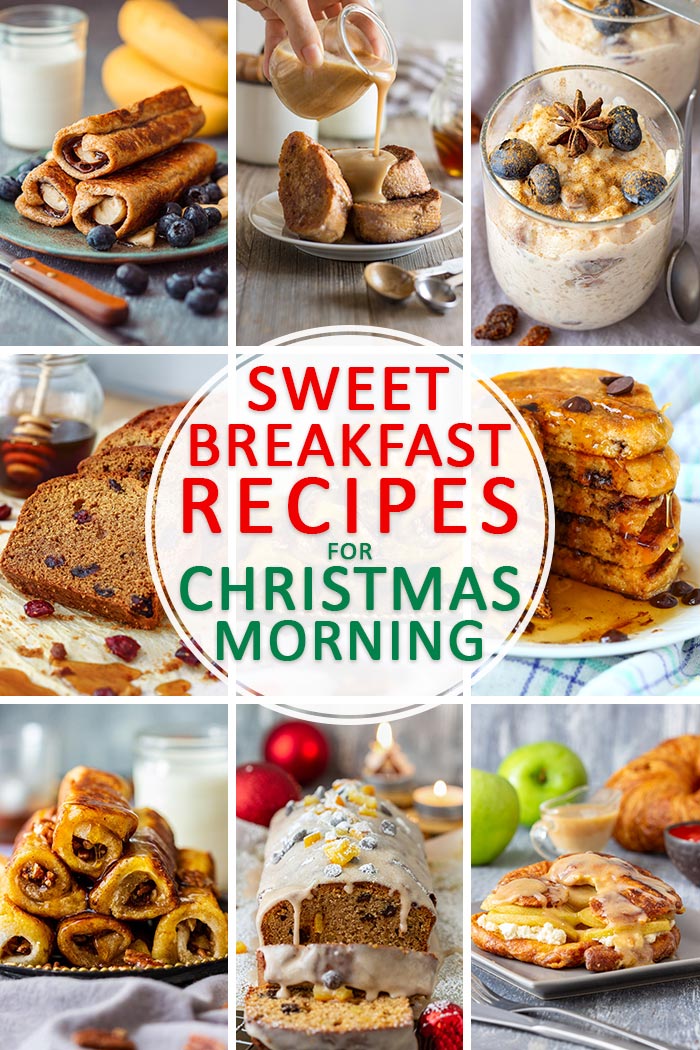 Christmas is the most magical time of year and it deserves a special breakfast.
So if you are in charge of cooking Christmas breakfast this Holiday season and you still don't have your Christmas breakfast menu planned yet, we've got you covered with these Christmas breakfast recipes.
What do you eat for breakfast on Christmas morning?
We like to treat ourselves to something sweet. If you are like us, you will enjoy this collection of Christmas morning breakfast recipes:
Gingerbread French Toast is the ultimate breakfast recipe for Christmas Morning. Drizzled with rich honey cinnamon sauce, this French toast breakfast recipe is a must try this Holiday season!
Maple Pecan French Toast Roll Ups have a quick preparation but you can also prep them a day ahead and finish them on Christmas morning. This is one of the sweet breakfast recipes you will fall in love with!
Berrylicious German Pancakes a.k.a. Dutch baby pancakes are the most delicious pancakes. Make a large one (or two), fill it with anything you like and share it with your family!
If you like rice pudding for breakfast, then you must try Instant Pot Rice Pudding. Made in electric pressure cooker, this sweet breakfast recipe can be also made ahead and reheated. It's the perfect Christmas morning recipe!
Double Chocolate Oatmeal is ready in less than 10 minutes and tastes divine. Top it with berries, caramelized apples or banana and serve! You can also prepare the oatmeal your favorite way and just add cocoa powder, chocolate chips and sweetener of your choice.
Nutella Banana French Toast Roll Ups – Equally delicious as Maple Pecan French Toast Roll Ups, these are so easy and quick to make. One of the kid-friendly breakfast recipes that you need to try!
Chocolate Chip Sweet Potato Pancakes are light and fluffy and taste amazing! Pre-cook the sweet potatoes a day ahead to save time on Christmas morning!
Ready on your table in less than 30 minutes, Croissant French Toast is filled with apple compote, maple ricotta and topped with cinnamon sauce. It's the perfect option for your breakfast on Christmas morning or Christmas brunch.
Quick bread recipes for Christmas morning breakfast
Gingerbread Loaf with Cinnamon Glaze is an indulgent, Christmas-flavored sweet bread that will become one of your favorite Christmas morning breakfasts.
Honey Cranberry Bread – Both of them have a quick 10-minute preparation so they are perfect for busy families. Just pop them in the oven and take them out when ready. Yeast-free and no-knead bread recipes!

Double Chocolate Banana Muffins are easy-peasy to make. You can bake them ahead and freeze them for later so if you are looking for grab-and-go Christmas morning recipes, this is it! They are ready in 35 minutes from start to finish.
Guys, what is your favorite Christmas morning breakfast?