Surprise your mom this Mother's Day with a homemade dessert. All these easy Mother's Day desserts have a simple and quick preparation. 10 desserts that anyone can do!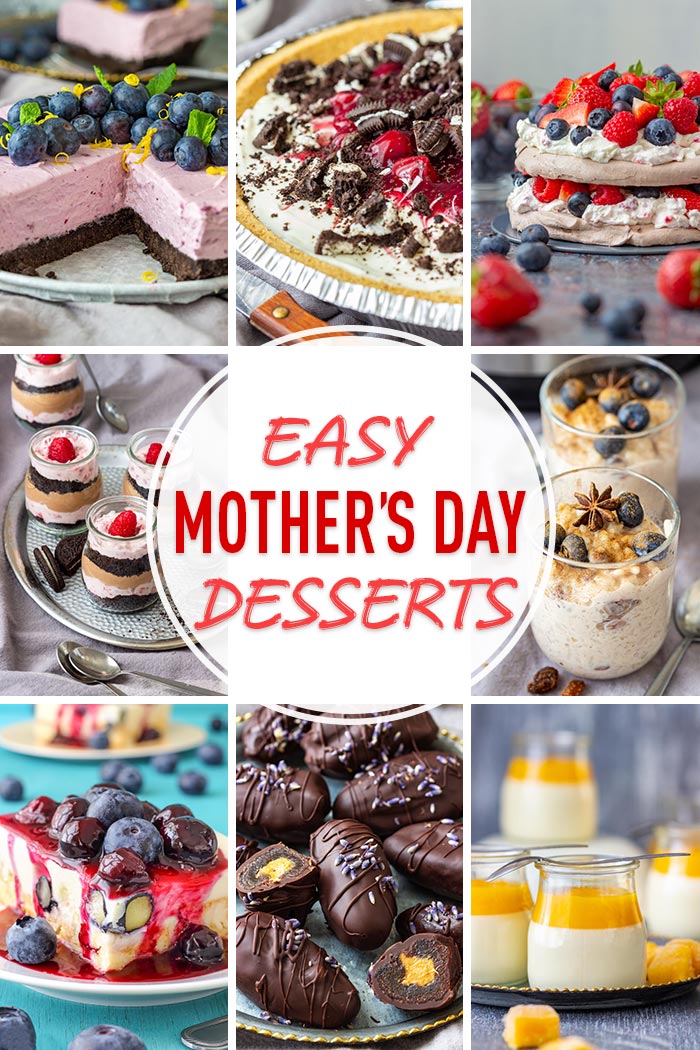 Most of them are no-bake desserts which makes them even easier – cheesecakes, individual desserts, chocolate treats, unique cake ideas, …
What is the best gift for Mother's Day?
This is not an easy question. Every mom is different so what my mom likes does not mean that yours will too.
The important thing is the thought, the effort you put into it. Moms are always busy looking after the whole family, making sure we have everything we need and like, helping us solving our problems, …
So, let's make Mother's Day all about them! Let them sleep in, make them breakfast (or brunch), prepare homemade dinner/take them to dinner and surprise them with one of these easy Mother's Day desserts!
No Bake Blueberry Cheesecake – You can whip up this dessert in no time and let it chill in the fridge until you are ready to present it to your mom! No oven needed, no gelatin used!
Mango Panna Cotta is another no-bake dessert. Mango can be substituted with berries of your choice – strawberries, blueberries, raspberries …
Instant Pot Rice Pudding – Now you will need an electric pressure cooker to make it, but guys, if you do have and if your mom loves rice pudding, then I highly recommend it!
No Bake Cherry Cheesecake Pie – is the only dessert here that uses shop-bought products that are basically layered into a tasty pie. Ready-made crust, marshmallow fluff and cherry filling are topped with crumbled Oreo cookies. No rocket science here!
Raspberry Oreo Nutella No Bake Dessert – is one of the easy Mother's Day dessert that don't require any baking. Easy and quick to put together.
Triple Berry Chocolate Pavlova – This is the only recipe that requires baking but let me tell you that it is worth it! Meringue base with topped with cream and fresh berries! What else tastes better than this?
White Chocolate Waffle Cake with Blueberries – The crust of this Mother's Day dessert is made of store-bought waffles. Yes! Go and grab your favorite waffles and surprise your mom with this easy dessert!
Chocolate Nutella Mousse with Strawberries
What should I make for Mother's Day?
A homemade gift is always a great idea. What about edible homemade gifts? Here is some inspiration for you.
Peanut Butter Stuffed Chocolate Covered Dates
3-Ingredient Raffaello Coconut Balls – They are easy to make and look so pretty in a box. Gift baskets are also a great idea and these homemade treats could be part of it as well.
Guys, I hope you found some inspiration here and if you do try any of these easy Mother's Day desserts, please let me know in the comments section below!