What else is better than sweet and spicy sticky chicken wings? Imagine them baked in the oven with the best chicken wing sauce recipe you can get! Simple ingredients, 5 min to prepare, 25 min in the oven!
Guys, if you had a burger and chicken wings in front of you what would you choose? I would go for the wings! Always! I got the taste of them in Ireland where they would sell them coated in BBQ sauce and baked to perfection! I loved them!
But … at one point they stopped selling them. Actually, they did not. They simply opted for cheaper ones. But the taste was never the same! I had tried making them at home but couldn't get the right taste. No BBQ seasoning, no BBQ sauce made them taste like I remembered!
Back then I was disappointed that I could not recreate the taste. They had the sauce, the seasoning but not the taste that make them yummylicious!
A few weeks ago I made them again. I did not use anything fancy. Nor did I follow any recipes. I just felt like having some sweet and spicy and sticky chicken wings so I tried again.
Well, I can say that I have finally succeeded. And guess what? The secret was not in the BBQ sauce like I had thought before.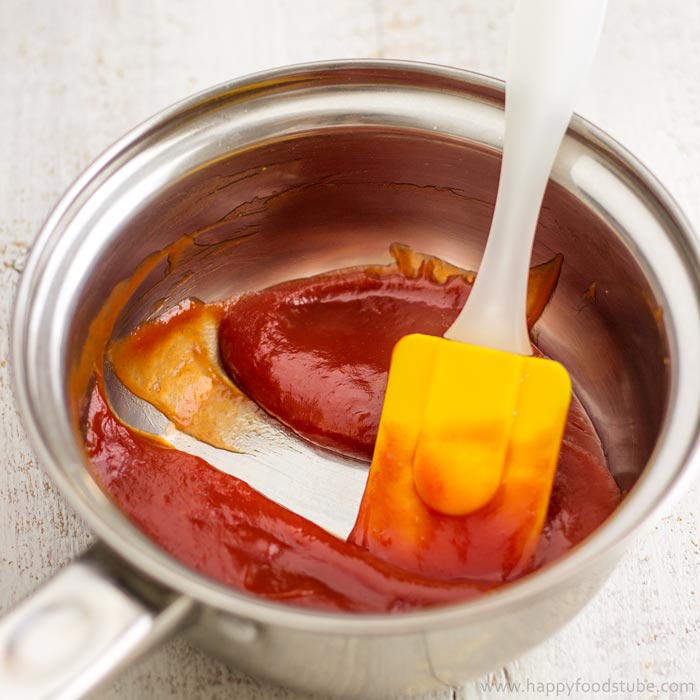 So this oven baked chicken wings recipe does not contain BBQ sauce! Yet it tastes like the spicy chicken wings I would buy from deli counter in Ireland.
Maybe they were not even BBQ chicken wings they just made that name up. But I wouldn't know this. For me, they were! And they were the best ones!
Anyways, these oven baked chicken wings are a must try for any wing lover out there! Guys, if you try them, let me know what you think! I love them and hope you will too!
This simple sticky sauce for chicken wings tastes incredible!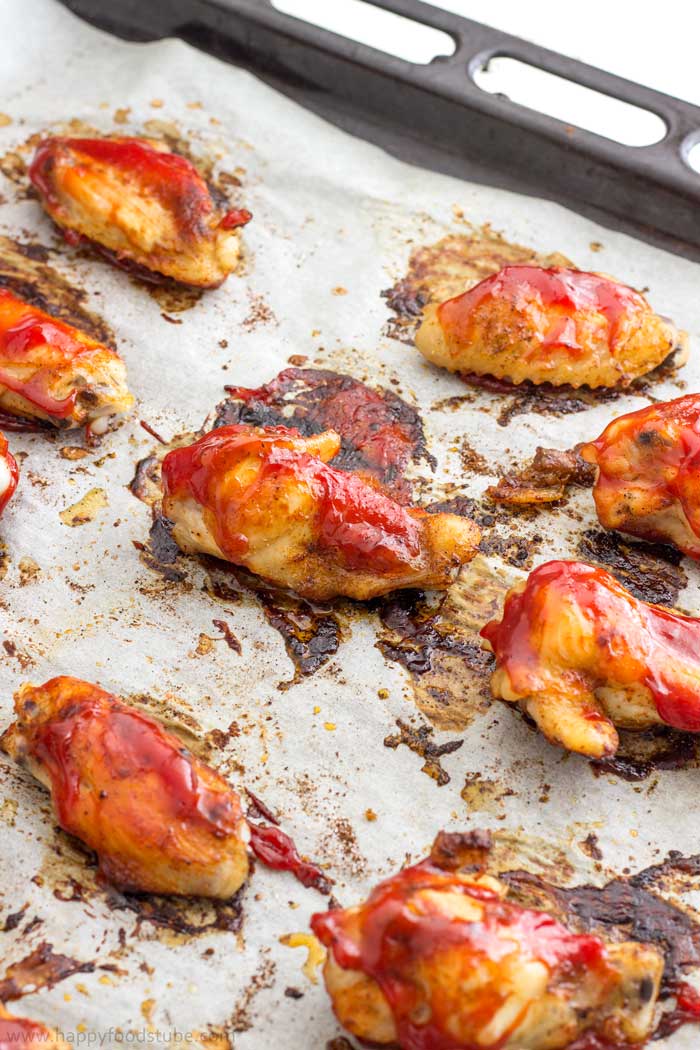 Are you wondering how to make these sticky chicken wings? Read on:
The preparation is fast and takes no more than 5 minutes! Everyone can do it! It is a pretty easy chicken wing recipe! There are basically 3 steps before you actually get to enjoy these sweet spicy sticky chicken wings:
Throw the wings onto a baking tray (don't forget to line it with baking paper or tin foil – you don't want to waste time cleaning your baking tray afterwards)
Make the sticky sauce by combining the ingredients and cooking over the stove to make it thicker.
Bake, coat, bake, coat, bake!
At the end of this process you will be rewarded with sweet and spicy perfection! My mouth is watering just writing this post and imagining them! Yummy oven baked chicken wings!!! Sweet. Spicy. Sticky. YUMMYLICIOUS! All I want to do right now is run to shop and buy some!
Now if it was up to me I could eat them every day but Siim is more into burgers so that's what I am going to make next. Just to keep him happy before I make another batch of these perfect sweet and spicy sticky chicken wings!
Other chicken recipes you might enjoy:
Sweet and Spicy Sticky Chicken Wings
What else is better than sweet and spicy sticky chicken wings? Imagine them baked in the oven with the best chicken wing sauce recipe you can get. Simple ingredients, 5 min to prepare, 25 min in the oven!
Ingredients
1.2

pound

Chicken Wings

(12-15pcs), cut into drumettes & flats (550 grams)

10

tablespoons

Ketchup

(100 grams)

1

tablespoon

Honey

1

tablespoon

Worcestershire Sauce

½

teaspoon

Hot Sauce

or Tabasco Sauce

1

tablespoon

Corn Starch

1

teaspoon

Salt

Pepper

to Taste
Instructions
Place the wings on a baking tray lined with baking paper or tin foil. Make sure there is an adequate space in between them.

Season each wing with salt, pepper and quite a generous amount of sweet paprika. Do this on both sides.

Bake in a preheated oven at 350°F (180°C) for 25-30 minutes.

Meanwhile:

In a small sauce pan, combine ketchup + honey + Worcestershire sauce + Tabasco sauce. Dissolve the cornstarch in 2 tablespoons water and add to the sauce pan. Stir well. Bring to the boil and simmer for about 3 minutes or until the sauce has thickened (run a wooden spoon/spatula through the sauce. If it doesn't fill the empty space you are good to go). Remove from the heat.

Once 15 minutes have passed, turn each wing over and coat with sticky sauce. Return in the oven.

Leave them in the oven for a further 15 minutes before turning each wing up-side down and coating them with the rest of the sauce. Bake for a further 10 minutes.

Enjoy while still warm!
Nutrition Facts
Sweet and Spicy Sticky Chicken Wings
Amount Per Serving
Calories 67
Calories from Fat 27
% Daily Value*
Fat 3g5%
Cholesterol 16mg5%
Sodium 294mg13%
Potassium 87mg2%
Carbohydrates 5g2%
Protein 4g8%
Vitamin A 330IU7%
Vitamin C 0.8mg1%
Calcium 7mg1%
Iron 0.4mg2%
* Percent Daily Values are based on a 2000 calorie diet.
** Happy Foods Tube is a participant in the Amazon Services LLC Associates Program, an affiliate advertising program designed to provide a means for sites to earn advertising fees by advertising and links to Amazon.com.
LEAVE A COMMENT
RELATED POSTS