Easy homemade lemon tart is a great citrus dessert made from scratch & using basic ingredients. It's a perfect baking project for kids as well!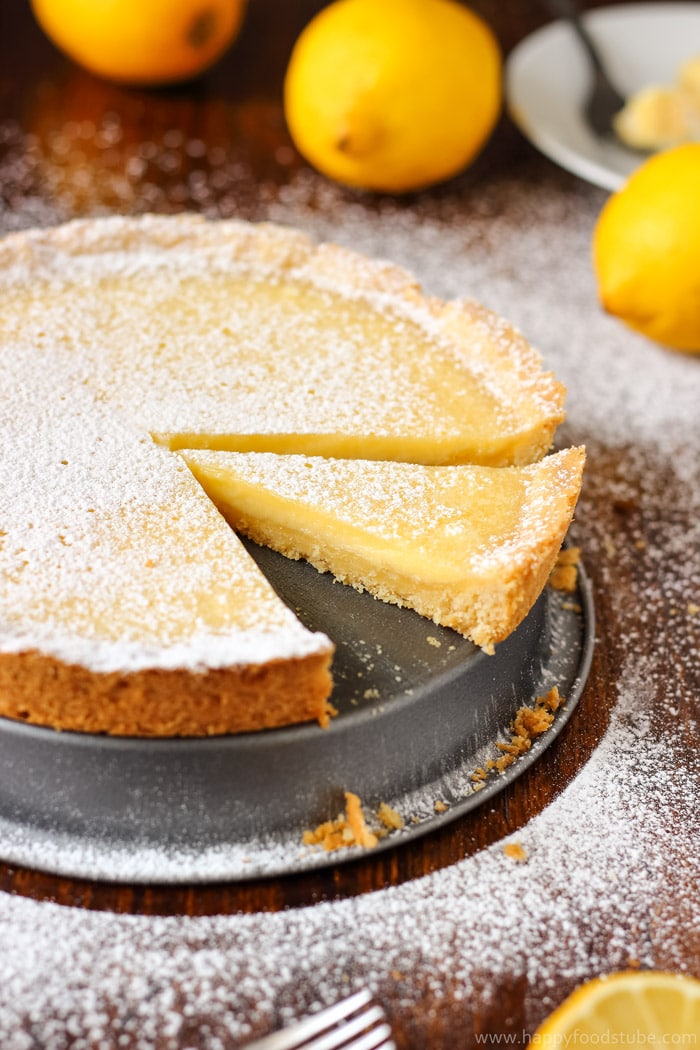 This homemade lemon tart is also perfect for beginner bakers! No special skills are required and the final result is well worth it!
I fell in love with lemon tart while living in Scotland. It was over 10 years ago. I loved everything about this citrus dessert. Even though I did not bake or cook much back then I made sure to write down this easy lemon tart recipe.
You see, lemon tart was not a common dessert where I come from back then and I dare to say that it is not much different now.
It is a shame because this is such a delicious homemade dessert! What do you think? Do you like citrus desserts? I like them a lot! Imagine thumbprint cookies or mini chocolate cups with homemade lemon curd! Easy to make desserts where lemon is the main or one of the main ingredients.
What do I like about this homemade lemon tart?
Its sweetness & tartness at the same time.
It's simple preparation.
Basic ingredients – 7 basic ingredients that don't cost much.
No kneading is required.
No rolling out is needed.
Great recipe for beginner bakers and a fun baking project for kids.
100% made from scratch – you can't beat the homemade lemon tart recipe with the shop-bought version.
Guys, making homemade desserts is easier than you think!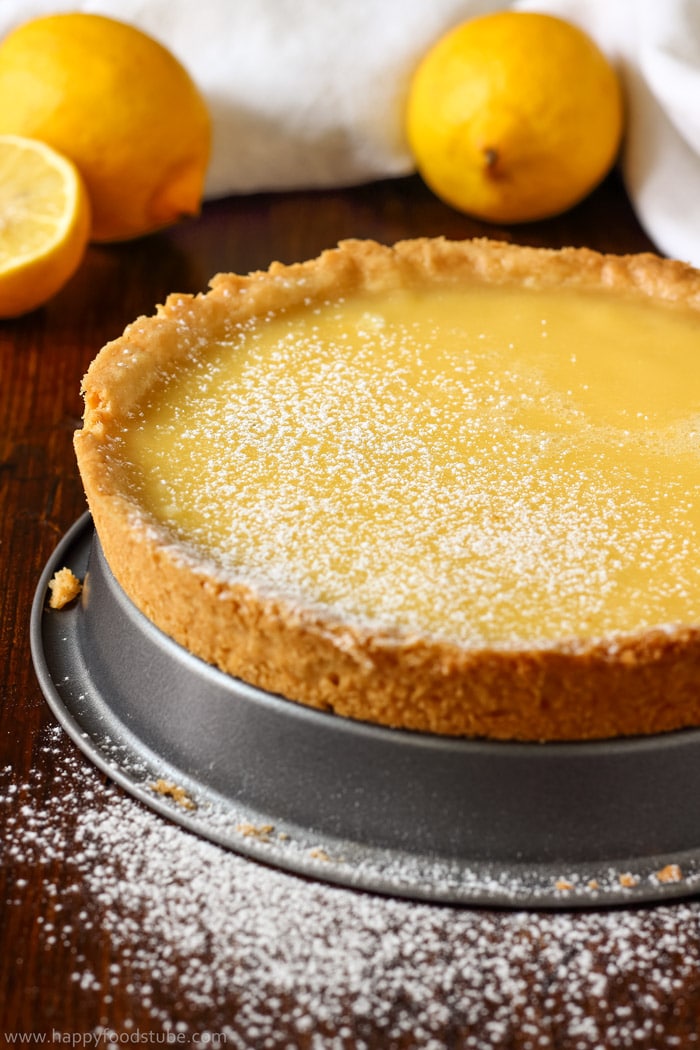 How to make homemade lemon tart – step by step
Let's divide the process into 2 steps!
Step 1 – Making the crust:
Everyone can do this! And I really mean everyone. Even kids! Actually, this is a perfect baking project for kids. Do you know why? Well, the answer is in this crust.
Making lemon tart crust is easy and more importantly it's fun. This is not the type of pastry that needs to be rolled out nicely. No no no! This one you basically stick to your cake tin. So kids will love doing this. Trust me!
So it goes like this: flour, butter & sugar are combined until a sticky dough is formed. That is it. This takes about a minute. All you have to do now is cover the bottom and sides of your cake tin with it. Evenly-ish, if possible.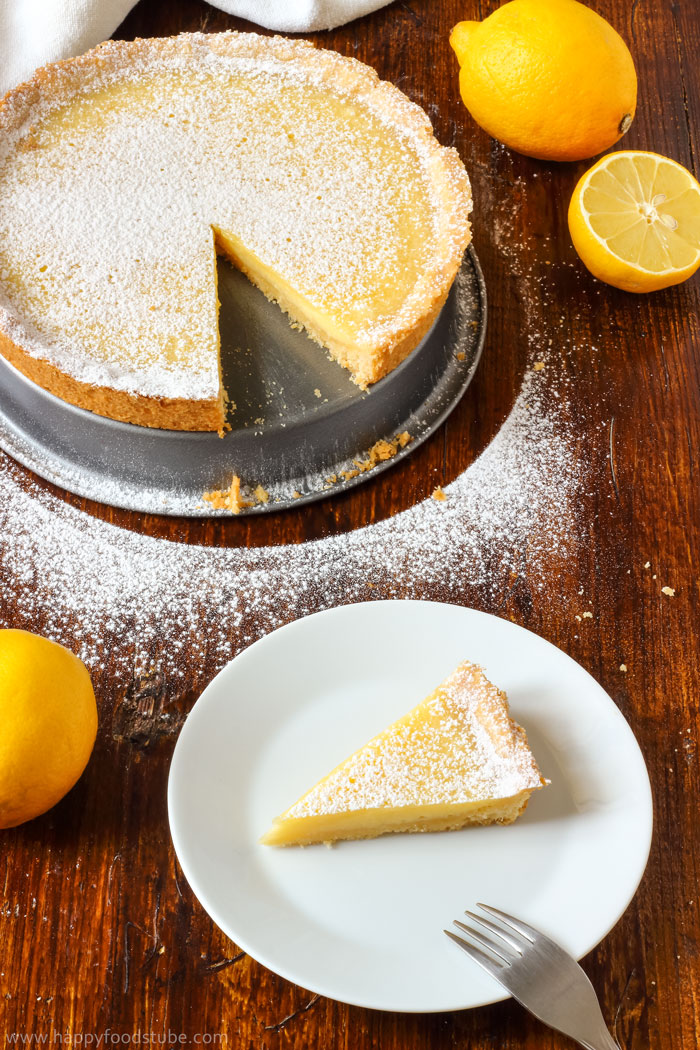 Step 2 – Making the lemon tart filling:
Get a bowl and throw the rest of the ingredients in. Whisk. Pour over the pastry and bake. You see, this is really easy and I am telling you, your kids will love making this lemon tart with you!
A few tips:
Homemade lemon tart is one of my favorite pies and I've made it several times. It always tastes delicious. To make the baking as smooth as possible check out these tips:
Butter your cake tin well. Be more than generous. If you grease your tin properly, you will be able to take out this lemon tart without any trouble.
If for some reason you find the pastry too hard to work with, add some extra melted butter.
Bake until the filling is set and the crust is golden brown.
Toppings: Lemon tart tastes even better when topped with sour cream, ice cream or whipped cream. I personally prefer eating this lemon tart with sour cream.
So now that you know everything you should know about making this easy lemon tart recipe you can give it a try!
Good to know:
This recipe can be easily doubled!
Check out my other dessert recipes with lemon:
Want to see how to make Lemon Tart? Watch the video!
Simple Homemade Lemon Tart
Easy homemade lemon tart is a great citrus dessert made from scratch & using basic ingredients. It's a perfect baking project for kids as well!
Servings:
5
(1 Pie – 7 inch/18 cm diameter)
Ingredients
For the crust:
1

cup

plain flour

(130 grams)

1

stick

unsalted butter

(110 grams)

4

tablespoons

powdered sugar
For the lemon filling:
¼

cup

whipping cream

¼

cup

caster sugar

1

egg

(large)

lemon juice

(from 1 large lemon – at least 1/3 cup)
Instructions
Mix flour, melted butter and icing sugar in a bowl until you get soft dough.

Press this soft dough into the base of your cake tin and up the sides. Pierce the dough several times with a fork.

Bake it blind for 20 minutes at 375°F/190°C. Take it out & let it cool down. Reduce oven temperature to 300°F/150°C.

In a bowl, whisk caster sugar, egg, cream and lemon juice. Carefully pour into the cooled pastry case.

Return to the oven and bake for a further 35–40 minutes or until the filling is set.

Take it out and let cool down completely before removing it from the tin.

Dust with icing sugar and serve.
Nutrition Facts
Simple Homemade Lemon Tart
Amount per Serving
% Daily Value*
* Percent Daily Values are based on a 2000 calorie diet.
** As an Amazon Associate I earn from qualifying purchases.
LEAVE A COMMENT
RELATED POSTS